When I did a tour of the South Island of New Zealand a while back everyone was telling me that I needed to see Milford Sound. As always I never believe what people say and I thought – yeah maybe! We were staying in Queenstown for a few days and we had some spare time so I decided well if everyone is saying it's so good then maybe I should check it out! So we headed down to Te Anau for a night so that we could make the trip out to Milford Sound the next day. Now I know why everyone was saying you need to go there!
From the minute you leave Te Anau the scenery is breathtaking. It is about a two hour drive from Te Anau but I promise you will not be bored. After the drive from Queenstown to Glenorchy, I think this would have to be the next best drive in the world. Oh wait, scratch that – third best drive in the world. Athabasca Way in Canada still wins hands down, but all three drives are absolutely stunning and a must do. So back to Milford, there are flowing valleys filled with wildflowers, lakes that have mirror like reflections , big and small waterfalls flowing with arctic blue water, lush rainforests filled with trees covered in moss, massive mountains and more to keep you captivated.
You definitely need to make a stop at Mirror Lakes which is a lake that perfectly reflects the mountains surrounding it. Its stunning to see and a good distance for a break from driving. On a still day they display a perfect reflection of the Earl Mountains.
Then you come to the Avenue of the Disappearing Mountain, where an optical illusion causes the approaching mountain to get smaller rather than larger. Upon reaching Lake Gunn, we stretched our legs on the nature walk – an easy 45 minute loop track. You walk through lush, mossy rainforest until you come out on the other side right on the shores of Lake Gunn which is stunning to see also.
We couldn't help but stop at this stream and gorgeous waterfall on the other side of the road. The water was so blue I just wanted to dive in except it was a bit chilly that day.
The Homer Tunnel signalled the descent to Milford Sound. This tunnel, which is hewed from solid granite, took nearly 20 years to complete. From mouth to mouth it measures 1270 metres. After driving through the tunnel we came out to this magical view.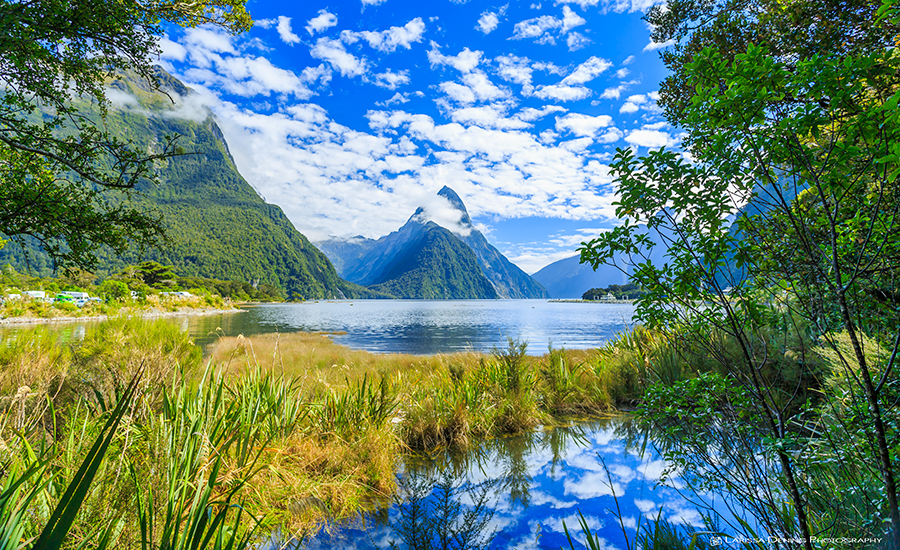 After having a bit of a walk around and a bite to eat it was time to board the cruise boat that was going to take us through the Fjords. It was a beautiful day luckily because I have heard that it rains 90% of the year at Milford Sound. But the good thing is if it rains you get to see all the temporary waterfalls flowing down the mountains and it can be even more magical than on a clear day.
Once we returned back to the dock after the cruise we hung around for sunset which was beautiful and we seemed to be the only people left. We pretty much had the whole place to ourselves! Make sure you take bug spray if you are hanging for sunset. The midges are relentless and love the taste of tourists!
Once the sun had retreated for the day we jumped back in our little Hyundai Getz hire car and headed back to Te Anau. Driving back through the tunnel at night was a bit scary. We were the only ones around and there was so much fog in the tunnel you really couldn't see a metre in front of you so we had to go really slow and I kept waiting for the guy from the movie Wolf Creek to jump out and murder us!
Fortunately we made it back to Te Anau safely! Even though it was a long drive back it was definitely worth it just to see this magical place and now I know why everyone says "you have to go to Milford Sound". Just watch out for the pesky midgies!
Have you been to Milford Sound, New Zealand? If so, what was your experience like? I would love to know, so leave a comment below!