I thought it was high time I wrote a blog about my hometown Brisbane. I mean, I have lived here for 15 years now so I do know a little bit about the place! I have photographed it to death so I put together a list of the 7 best photography locations in Brisbane. They are all relatively easy to get to, most of them you can walk to if you are staying in the city, otherwise they are no longer than a 30 minute drive away. Brisbane is a great city at sunrise and sunset as you have got great spots facing East and West around the city and the outskirts of the city. Check out my video at the end!
1. Kangaroo Point cliffs
This is a great spot at sunset as the sun usually goes down right behind the city so you can pick up the beautiful colours in the sky. There are a lot of points along the top of the cliffs that you can take photos from and you can also walk down the stairs to get photos along the waters edge. You can either go for a silhouette of the city skyline or lighten up the buildings in post processing. This is also a great spot for night photography of the city. Kangaroo Point cliffs are located on River Terrace, off Main Street, Brisbane. Stairs to walk down to the river are location to the left of the Cliffs Cafe.
2. Wilsons Outlook
Another great vantage point is Wilsons Outlook at New Farm. You get great views of the Story Bridge with the city behind it. A great spot for sunset and at night. Wilsons Outlook is located at Bowen Terrace, New Farm.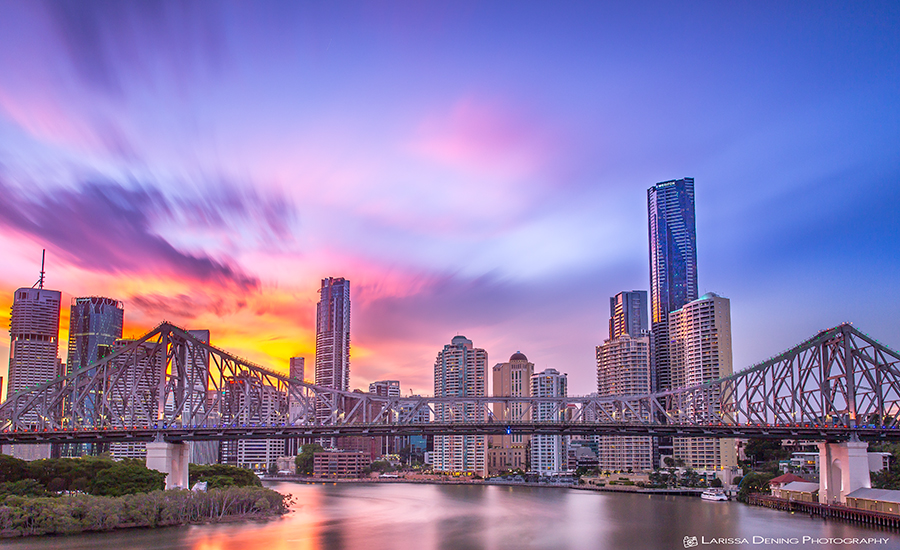 3. Southbank
Southbank is a great spot to just hang out at day or night. There is the streets beach which is the only inner city beach in Australia. It is an enormous lagoon with soft white sand overlooking the Brisbane city. You can also go for a walk along the promenade, enjoy The Collective Markets on Friday night, all day Saturday and Sunday or enjoy a relaxing "Sunday Session on the Green" at river quay where they have live music playing from 2pm, lawn games and a chilled social vibe. But back to photography, there are endless spots along the promenade to photograph the city or the Brisbane Wheel which looks great all lit up at night. Southbank is located across the river from the city along Grey Street, Southbank.
4. Cleveland Point
About 30 minutes away from Brisbane City is a place called Cleveland point which is part of the Brisbane bayside area and a popular spot for locals to have a barbecue, picnic or do some water activities like fishing, windsurfing or jet skiing. Its also a favourite for photographers because there is a few old wooden jetty's that faces West and is great for a sunset location. There are lots of trees in the water too which always makes for a nice composition on a calm day. The jetties are located at North Street, Cleveland. You have to walk along the cement wall to your left to get to some of the really old ones.
5. Shorncliffe
On the north side of Brisbane is the bayside suburb of Shorcliffe with the famous Shorncliffe pier which is under construction at the moment due to being a hazard after termites ate the stumps from under it, but its still a great location for families having bbq's, picnics and swimming in the bay. There is a lot to photograph out that way too, with poles in the water, the pier (once it is finished being fixed up), a rock wall and a mini beach. Shorncliffe is about 20 minutes north of the city. The pier is located off Park Parade, Shorncliffe.
6. Wellington Point
Wellington Point is on the south side of Brisbane in another bayside area. Its another very popular spot for families who want to have a barbecue, picnic or do some water sports. At low tide you can walk out to King Island but be careful if the tide is coming in because it comes in very fast and I know of a few people that have gotten caught in chest deep water before they have gotten back to shore! Its another great spot for photography as there is a jetty on the eastern side which is good for sunrise and the other side faces east for some reflections on the sand at low tide. Wellington Point is located on Main Road, Wellington Point.
7. Mt Cootha
Mt Cootha is the famous lookout of Brisbane. It is about 7km west of the city with 180 degree views across Brisbane. This is a great spot for sunrise and sunset. Its particularly beautiful on a foggy morning when the entire valley is filled with fog with the exception of the buildings in the CBD poking out the top. There is a cafe, restaurant, gift shop and function room located at the lookout. Mt Cootha lookout is located of Sir Samuel Griffith Drive, Mount Cootha.
I hope you enjoyed this round up of the 7 best photography locations in Brisbane. It really is a beautiful city and I am proud to live here. Ill leave you with one of my favourite quotes: "The magic thing about home is that it feels good to leave, but it feels even better to come back"
If you enjoyed this blog post or feel there is anything to add feel free to leave a comment below!
You might also like these articles:
7 Amazing waterfalls in Northern NSW and Gold Coast
A Road Tripping Adventure: Lake Louise, Canada