Every year I like to head over to New Zealand and do a campervan trip with Wilderness.co.nz around the South Island of New Zealand. Living in Australia we don't see much snow or epic mountains. I find being amongst nature, snow and mountains grounds me and brings me a sense of peace. This year I decided to find all the best photographic locations. It's not hard to find amazing scenes in this stunning country but here is my list of the 7 best photography spots in New Zealand's South Island. Check out the video at the end!
1. Lake Tekapo
I am going to write this in order of the trip that I did which was basically a round trip of the South Island. Of course there are so many beautiful spots that you will see along the way. This list is THE most stunning spots of them all. After flying into Christchurch I had to spend the night there as the whole country was flooded and all of the roads were cut. After getting a weeks worth of food from the supermarket I drove to the Christchurch Top 10 Holiday Park for the night. This caravan park is really nice with super clean toilets and showers.
The next morning I hit the road for Lake Tekapo. I couldnt believe how much snow there was once I arrived in Tekapo. It was a winter wonderland! Super cold but so pretty. Lake Tekapo is one of my favourite places in New Zealand. Snow capped mountains based around an aqua blue lake. There are lots of different vantage points at sunrise and sunset for photography. I usually do sunset over near the Church of the Good Shepherd and sunrise from just below the Lake Tekapo Motels and Holiday Park which is where I stay as there is no free camping in Tekapo.
2. Lake Pukaki
I think Lake Pukaki has to be my absolute favourite lake in New Zealand. It is surrounded by some of the prettiest snow capped mountains in NZ and the colour of the water is the most azure of blues. I never miss a stop here whenever I am in New Zealand. There are a few good spots to free camp right down by the lake too. Waking up to the incredible views is something else and one thing I always look forward to. A great app to find free camping spots is the Wilderness Travel App. I use this app constantly while I am in NZ. It gives you free camping grounds, caravan parks, toilets, petrol stations, dump stations, water, etc. Basically everything you need to know while you are camping in New Zealand. Update: This app is now Campable.
3. Mt Cook
The last time I was in New Zealand I didn't get the chance to visit Mt Cook because the weather was really bad. Snow storms and gale force winds sent me packing and on to the next town. I was so, so happy that this time I got to spend some time here and experience the awe inspiring beauty that this place holds. I spent the majority of my time at Tasman Lake because Hooker Lake road was closed due to snow fall. Tasman Lake is situated in such a way that Mt Cook is sitting right at the end of it with snow capped mountains down either side of it. The water is aqua blue and icebergs break off the glacier and float down the lake into the river. It is one of the most stunning sights I have ever seen.
Glentanner Holiday Park is a decent place to stay that is the closest to Mt Cook with toilets and showers. You can free camp at White Horse Campground if the road is open. Its $10 per night but if the road is closed, Glentanner is a great option. Its $25 per night per person and has decent toilets and showers. There are nice views of Pukaki from the campground too.
4. Wanaka
The next pit stop of the South Island adventure is Wanaka. You can't go to New Zealand with out taking a photo of the famous Wanaka tree. I think this could possibly be the most famous and photographed tree in the world. There is also a hike that you can do to Roy's Peak for unbelievable views. You can read more about that here. The other reason that you need to visit Wanaka is because they have THE best pizza in all of New Zealand. The Cow Wanaka is a cosy pizza place set in an old barn with an awesome fireplace and the most delicious pizzas you will ever taste. The Vegetarian Anne is my absolute favourite. You have to add pineapple though. I can't eat a pizza without pineapple. ? If you are a meat lover then Her Majestys Pleasure is the one for you.
The Wanaka Kiwi Holiday Park is a fantastic place to camp. The showers, toilets and kitchen are awesome and the park is really clean. It's also the only park in town with free wifi. It is $25 per person per night but well worth it if you are in need of a shower. There is no free camping in Wanaka.
5. Glenorchy
I know you may be wondering why I am not talking about Queenstown and don't get me wrong I love Queenstown. It's great for adrenaline sports,skiing,  awesome food like the famous burgers at Ferburger and chilling in coffee shops or bars. I always tend to drive straight through to Glenorchy because after being in nature and then being in a city again gets me a bit frazzled and being in New Zealand is all about being in nature for me. The drive from Queenstown to Glenorchy is one of the prettiest in the world and one not to be missed. Glenorchy is just so peaceful and pretty. There are quite a few spots to free camp along that road too. They are kind of hard to spot because they are not marked but if you check the Wilderness Travel App you will be able to find them easily.  There is no free camping in Queenstown.
A great cafe in Queenstown for breakfast or lunch is Bespoke Cafe. I ate here quite a few times. The vegan pancakes are so, so yum, plus they have chai lattes on coconut milk! #winning! This place gets super busy so make sure you get there early for brekky!
I also found out later that The Cow Restaurant is also in Queenstown. If I had known that I would have been chowing down on another Vegetarian Anne pizza like a happy little pig in mud. But thats ok, the masaman vegetable curry that I cooked up in the van did the job!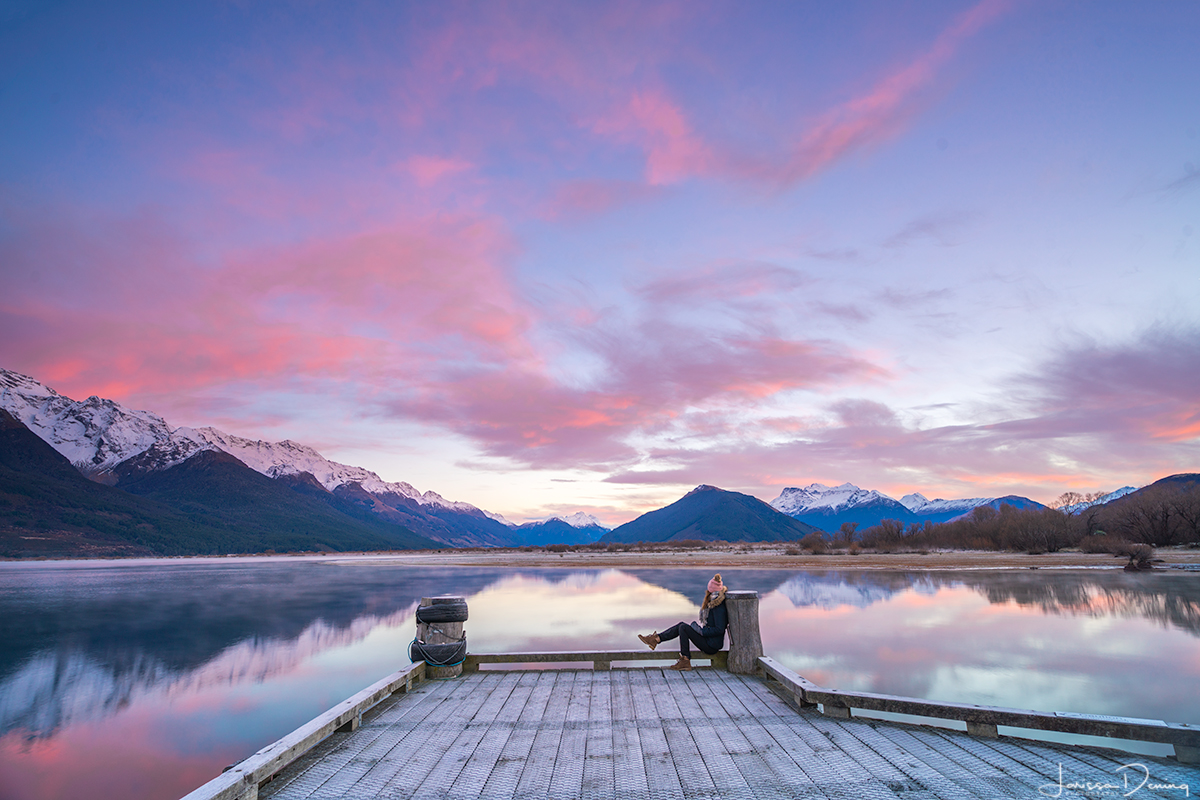 6. Milford Sound
So it's a bit of a drive to Milford but it's another absolutely stunning drive. It takes about 4 hours from Queenstown. You actually have to go back up to Wanaka and head west from there. The drive is so beautiful it will probably take you all day to get there because you will be stopping to take pictures the whole way! If the weather is good, then do one of the boat cruises out to the sound. You will see waterfalls flowing down the side of massive fjords and the views back towards the harbour is pretty nice. For the best photos stick around for sunset and watch the reflections of the mountains on the water. Pack some midgie spray though. Those little buggers are vicious around dusk and dawn.
There is only one campground – Milford Sound Lodge and it is the closest to the sound. It's a good campground with the best shower/toilet facilities I have come across. There are free camping spots but they are a fair way back down the road from Milford Sound.
7. Lake Matheson
Lake Matheson is one of those places that is kind of a long way to get to but well worth it once you're there. It is famous for it's calm still water that reflect Mt Cook perfectly. You need to get really lucky with the weather here. Being on the West Coast of New Zealand is always dicey as it gets a lot of rain. The first time I visited Lake Matheson, the mountains were completely clouded over and I didn't think I was going to get any good shots. Luckily I hung around and just as the sun was going down the clouds cleared and revealed the beautifully picturesque view of the mountains reflecting in the water. Lake Matheson is usually a sunrise location but sometimes you can fluke it and get a nice reverse sunset here. It is a good 20 minute walk to the Jetty Viewpoint which I think is the best view for perfect mirror like reflections.
And that bring us to the end of the 7 best photography spots in New Zealand's South Island. I hope you enjoyed all the places that I spoke about. Of course there is so much more to see in New Zealand than just these 7. NZ is one of the most stunning countries I have ever visited and keeps me coming back every year to bask in its beauty.
Big thanks to Wilderness NZ for another amazing trip. If you are wanting to do a camper van trip yourself, I highly recommend these vans and this company. They are the most comfortable and warm vans, that are super easy to drive and have everything that you could possibly need inside.
3 Export Ave
CHRISTCHURCH 8053
Phone: +64 9 282 3606
Email: [email protected]
Are there any places that you think should be included in this list? Have you explore the South Island of New Zealand yourself? I would love to know so leave a comment below! 🙂