Since it has quickly become one of my favourite beach locations recently I thought it was time I shared 7 amazing photography spots in Noosa. Having the Noosa National Park is a massively beautiful part of this area and gives you so many awesome vantage points for photography. It is fantastic for west facing beaches like Laguna Bay, Noosa Main Beach, Tea Tree Bay, Little Cove, Granite Bay & Mount Tinbeerwah for sunsets. This is quite rare on the East Coast of Australia as not a lot of beaches face West.
Stunning photography spots for sunrise are Sunshine Beach, Alexandria Bay, Noosa Main Beach, Laguna Bay and Little Cove.
Let me show you these stunning photography spots all over Noosa and check out my video at the end!
7. Granite Bay
Granite Bay is about halfway along the coastal track on Noosa National Park. You can start the walk at Noosa Main Beach or from Sunshine Beach. Either way, Granite Bay is about the half way point. It is a beautiful spot to swim when the tide is lowish and you can get great sunrise and sunset shots from both ends of the bay. It's also beautiful to photograph on a clear blue day with the Pandanus trees against the aqua blue ocean.
6. Noosa Fairy Pools
Ok, so it took me quite a few attempts to actually find the famous fairy pools because there is no sign for it and it's down the bottom of the hill so you can't see them until you start walking down a fair way. The only way to describe where they are is that there is a bench chair on a corner after you walk passed Granite Bay if you are walking from the Noosa Main Beach end of Noosa National Park. You may see lots of people lazing around on the grass near here. That's the sign that you are in the right spot. It used to be a secret spot for just the locals but with the popularity of Instagram nothing seems to be secret anymore and places like this are completely overcrowded so good luck getting this place to yourself.
There are two pools. The one in the picture above is the smaller one. The bigger one is to the right of this and much deeper. It's a good one for taking pics. This spot is great for sunrise or sunset or just for the ever famous selfie for Instagram of yourself jumping or floating in the pool!
The pools are only visible on a mid to lowish tide. The rocks are cover in water otherwise. It's a great aspect with the blue coloured pools against the ocean backdrop.
5. Little Cove
Little Cove is a beautiful little spot not far inside the Noosa National Park. It's probably a 10 minute walk from Noosa Main Beach. There are lots of boulders and different shaped and coloured rocks to use as foreground interest here. It's a great sunrise/sunset spot as you can shoot from two different angles of the bay. The picture above was taken at sunrise. There are usually people supping around here in the morning too which makes for a nice foreground interest if you can catch them quick enough.
4. Alexandria Bay
Alexandria Bay is a nudey beach situated closer to the Sunshine Beach end of Noosa National Park between Devil's Kitchen and Hell's Gate. This beach is stunning with clean white sand and aqua blue water. It's a good spot for sunrise even though you have to walk over the mountain to get to it. It's only about a 15 minute walk from Sunshine Beach though. Early in the morning there shouldn't be too man nudists around. Its a great spot for a swim on a hot summers day too because it's not very crowded but its not patrolled and has been known to have strong currents and rips so take care when swimming. It's a really long stretch of beach so you can find a quiet place to relax.
3. Mt Tinbeerwah Lookout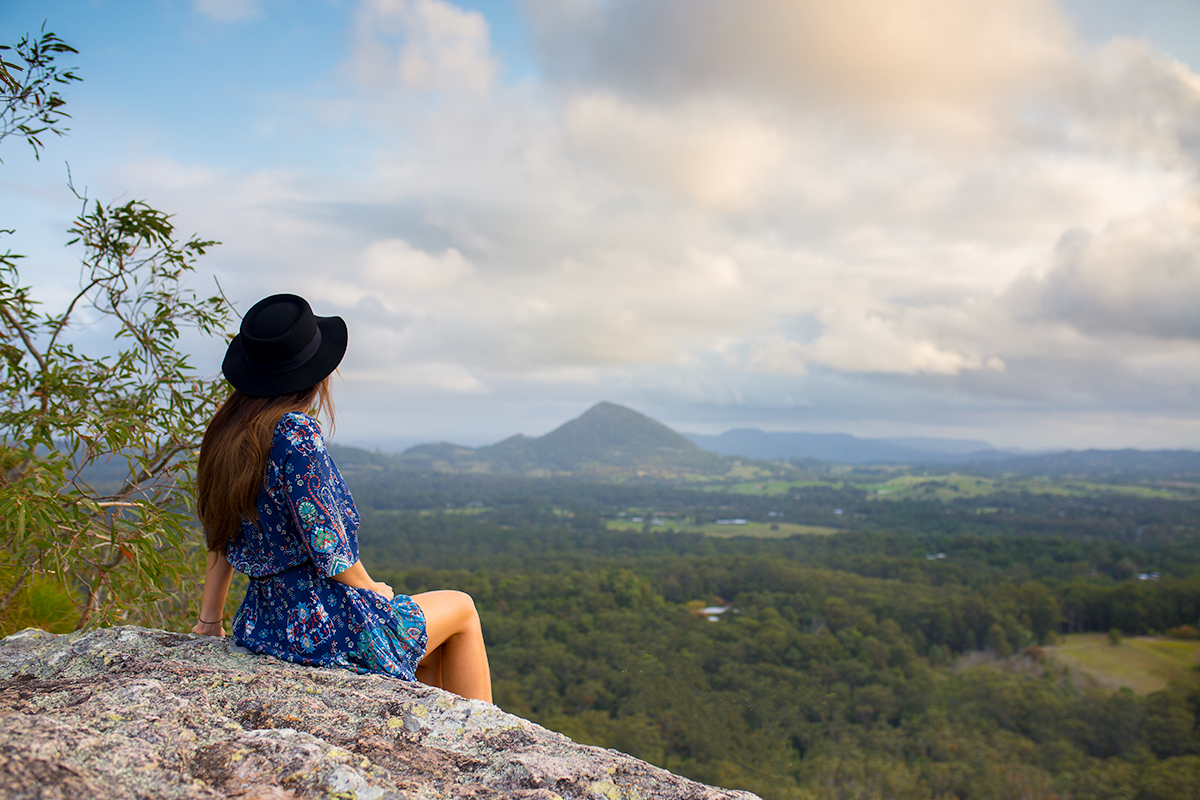 Mt Tinbeerwah Lookout in the Noosa Hinterland is a stunning spot for sunset. It's an easy walk to two different lookouts from the car park once you drive up the winding mountain road. There are views overlooking the glass house mountains and the valley below. Even without taking photos it's a beautiful spot to sit and watch the sun go down. You could also do sunrise from the first lookout that you pass as it faces east but I think the most picturesque view is facing West.
2. Sunshine Beach
Sunshine Beach is on the eastern side of Noosa National Park. It is another stunning beach with clean white sand and aqua blue water. It is THE best spot for sunrise as the sun rises directly out over the ocean here. This beach gets really busy during the day. It's a great beach for surfing as it's the only spot that gets good waves around Noosa. If you want to walk through Noosa National Park from this end of Noosa then you start at Sunshine Beach. Personally I think this end of Noosa National Park is the most beautiful part of it especially if you don't have a lot of time to explore the whole thing. It is quite a long walk from one end to the other and takes about 3 hours one way if you are stopping to take photos and enjoying the view. A lot of people get a taxi back to there car because it is quite a long walk back!
1. Main Beach, Noosa
Noosa Main Beach has to come in at Number 1 because of this amazing sunset that I witnessed here. Not to mention the fact that there are pandanus trees that you can frame your shot with and there are always a couple of surfers that you can use for foreground interest. This is a great spot for sunrise but mostly sunset as it faces west. You can sit up on the foot path and watch the colours unfold. It's one of my favourite places to watch the sunset actually and this one will be stored in the memory bank for a long time to come!
So that's it! My 7 Amazing Photography Spots in Noosa. I hope you enjoyed this run down and feel like there is plenty of places for you to explore and photograph on your next Noosa adventure.
Let me know if I missed any of your favourite spots and if you enjoyed this blog please leave a comment below!