A few weeks ago, at the start of May to be exact I went on a little adventure finding Autumn colours in New England, NSW. It was a photo tour that I had organised with my friend and fellow photographer Steve. We escorted six other photography enthusiasts in a mini van from Brisbane. After meeting early Saturday morning at Mt Coot-tha Botanic Gardens we headed West along the Cunningham Highway.
Finding Autumn colours in Tenterfield
Finding Autumn colours in New England NSW was pretty easy once we hit Tenterfield. Tenterfield is 3.5 hours South West of Brisbane. This is a pretty little town with some gorgeous historical buildings and a quaint Main Street. We stopped for lunch at the bakery before heading to Millbrook Park where we found the most beautiful Autumn coloured trees ranging from green to yellow to orange and red. The first spot we found was this beautiful tree lined road….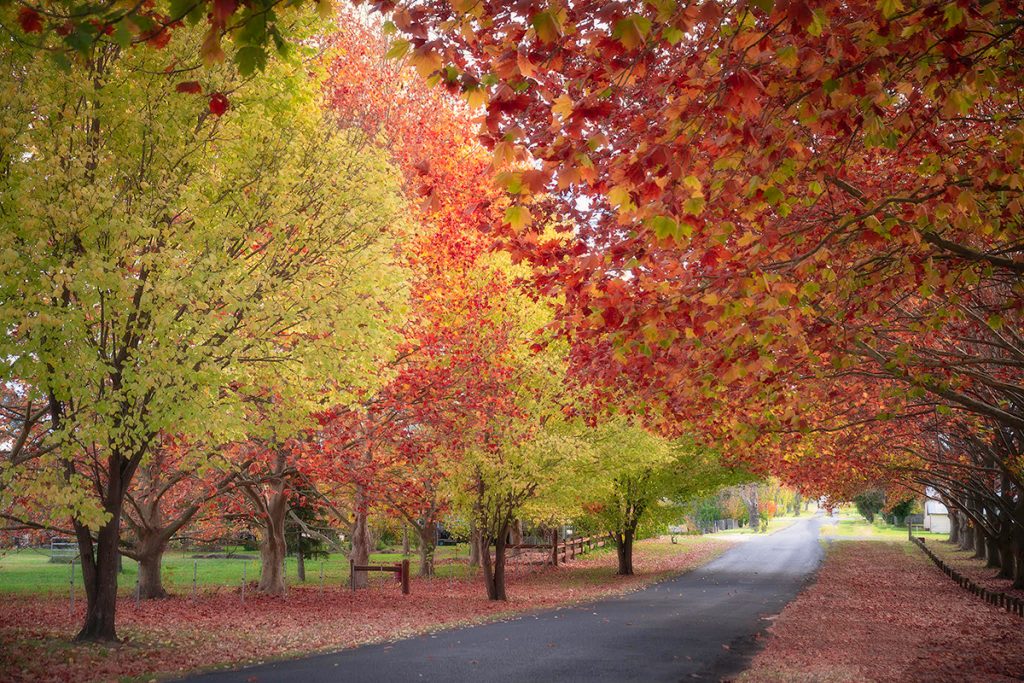 After taking some photos in this stunning park we got back on the mini bus and headed for Armidale. But first we checked out the famous Autumn scene along the Bruxner highway and it didn't disappoint. The stunning historic sandstone and granite residence of Deloraine built circa 1868 set amongst the red leaves of the Autumn trees is a sight to see. It use to be a bed and breakfast but had been converted to an incredible private home.
Finding Autumn colours in Glen Innes
Along the way to Glen Innes we came across so many beautifully coloured driveways with Autumn trees and fallen leaves lining them.
Quite a few of these places were on the other side of Glen Innes. If you keep a good lookout you can literally see them as you drive along the New England Highway. It was getting quite late after all our stops along the way. After taking some pics of this gorgeous tree lined road called Stonehenge we headed to our accommodation in Armidale for the night! We were staying at Armidale Country Comfort which looks way nicer in the pics by the way! It was our only options as most hotels were booked out in Armidale that weekend.
Day 2 – Gostwyck Chapel, Uralla
Next morning we got up very early in the cold and dark at 4:45am to leg it to Gostwyck Chapel in Uralla for sunrise. This chapel is set amongst one of the most breathtaking scenes in Autumn. The chapel is covered in a vine that turns red at this time of year and it is surround by huge yellow poplar trees!
It honestly looks like something from a story book. This place is very popular this time of year for photographers as you can see in the video I have attached at the bottom.
After the sun had risen we headed back to Armidale for breakfast at The Gold Fish Bowl which was pretty delicious but super busy. And they have real chai from a tea pot! Bonus!
Time for some waterfall exploring..
We then headed off to Dangar Falls for some waterfall exploring! Dangar Falls is about an hour and a half drive from Armidale. It started raining as we left but by the time we arrived it had stopped. It was still very overcast with grey skies. Perfect weather for photographing waterfalls! There is a gorgeous view from the top of Dangar Falls or you can do the short 10 minute walk to the bottom for another vantage point.
Next stop was Crystal Shower Falls which is part of the Dorrigo National Park and only a 10 minute drive from Dangar Falls. The walk to this gorgeous waterfall takes about 30 minutes one way but is so pretty. You feel like you are walking through fairy land. It is very misty with a thick, lush rainforest canopy. Once you arrive at the waterfall you can view it from the side of the bridge or walk across the bridge to the other side and go down underneath.
You can even walk behind this waterfall through a cave which is very cool!
Back to Armidale…
Once we had finished having fun photographing every possible composition we headed back to the car and back to Armidale for our second night there. But as we approached Armidale we could see there was going to be a some colour in the sky at sunset. We also found a very cool grassed laneway with Autumn trees that we just had to pull over and photograph!
That night we had dinner at the pub who do really good meals. The salmon and vege was delicious!
Day 3 – Sunrise at Gostwyck Chapel again…
This morning we got blessed with some beautiful misty fog at Gostwyck Chapel. Once the sun started to rise and lit up the chapel the conditions couldn't have been more perfect…
The Autumn colours were popping against the blue and peach sky with the red vine on the chapel and the yellow poplar trees. There are so many compositions at this location, you run out of time while the light is so good!
Once the sun had gotten too bright and burnt off all the fog we packed up and headed back to Armidale.
Finding Autumn colours in Armidale
After showering and a quick Maccas breakfast (as we were running late from spending so much time at Gostwyck Chapel) we headed over to the New England University to check out the Autumn colours there! They were pretty spectacular too!
One last stop…
We couldn't leave this area without one more look at Millbrook Park in Tenterfield before heading home!
It was a full on, fun filled 3 days of chasing Autumn Colour and waterfalls and we had the best group of people to do it with. Thanks for being awesome Julia, Janice, Michael, Himanshu, Kelly and Rebecca. You can check out the video of our adventure below and if you want to come along on this photo tour next year make sure you sign up to my website so that you get notified when it comes up! You will also get my free e-book "How to take Amazing Photos every time!" If you want to do any other photo tours or workshops with us you can check them out here.
I hope you enjoyed this blog about finding Autumn colours in New England NSW. Have you discovered any spectacular Autumn colours around the place? I would love to know so leave a comment below! 🙂