As someone who has explored almost every waterfall in South East Queensland several times, I though it was time that I listed the best ones for you. We are so fortunate to have so many stunning waterfalls within an hour of my hometown of Brisbane. So here are the best waterfalls on the Gold Coast & Sunshine Coast.
Check out my video that I created below for some beautiful footage of each waterfall too. Please subscribe to my YouTube channel also if you don't want to miss out on all my latest travel adventures and photography tutorials!
1. Natural Bridge waterfall – Springbrook National Park, Gold Coast
Natural Bridge in Springbrook National Park is set inside a cave that houses a large glow worm colony. I mean how much cooler can you get really? It is a short 10-15 minute walk through pretty rainforest down to the cave from the carpark. It's a very easy waterfall to get too and there are several viewing points.
You can stop at the top and see where the water flows through the top of the basalt cave or head down the bottom for the best view. A great spot for photos is inside the cave but there are is another viewing platform outside the cave and I find the best spot is halfway down the stairs!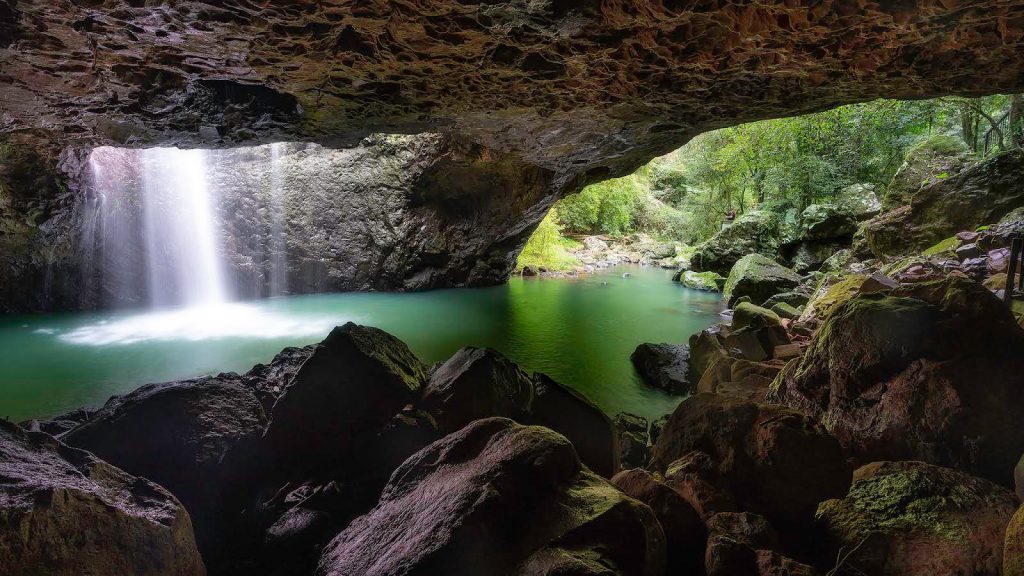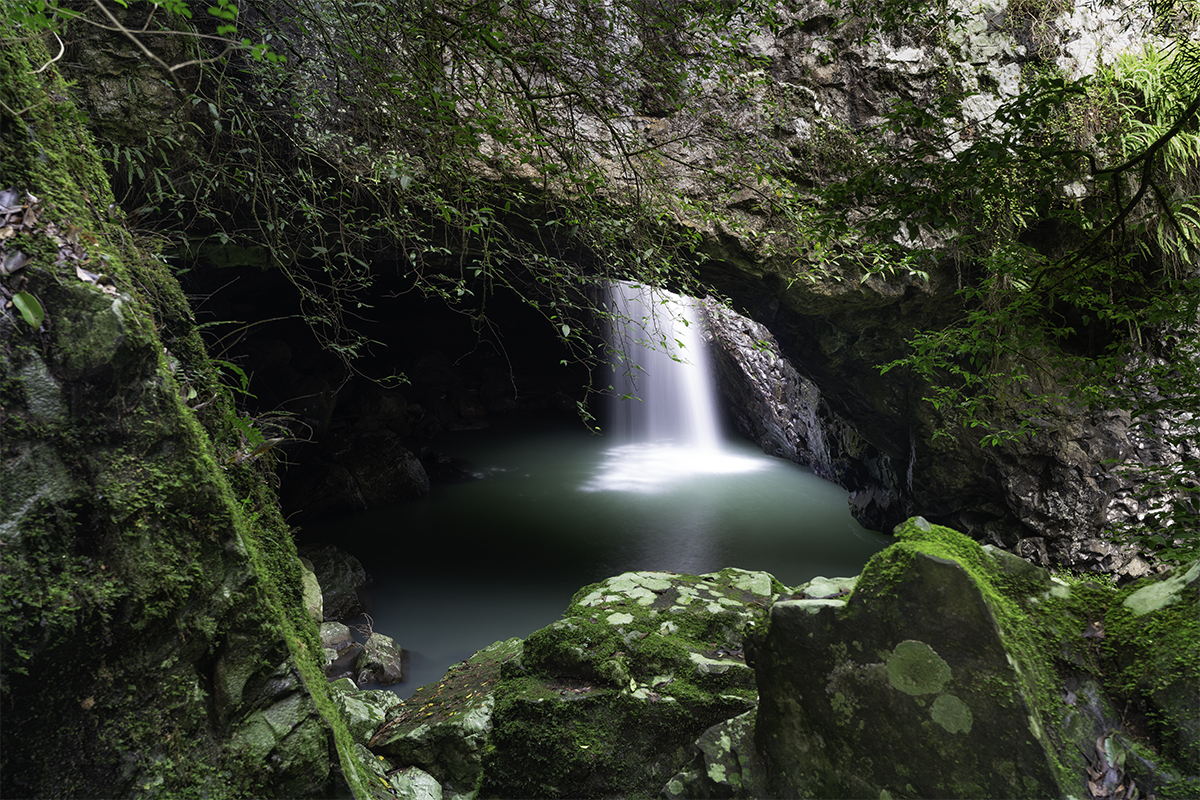 2. Twin Falls – Springbrook National Park, Gold Coast
Twin Falls is not too far from Natural Bridge so you can easily see both in a day trip. I think Twin Falls would have to be my favourite as the walk to the falls is almost as beautiful as the falls themselves. You honestly feel like you are walking through fairyland. On a misty day it is truly magical. The walk to Twin Falls from the car park takes about 15-20 minutes and it's a moderate walk. Some parts can get quite wet and muddy so make sure you wear decent shoes. Once you come around the corner and see the falls you will know why it's my favourite.
You can swim in the rock pool below on a hot day and you can even walk behind the falls as there is a circuit track that goes all the way around.
3. Elabana Falls – Lamington National Park, Gold Coast
Coming in at number 3 for the best waterfalls on the Gold Coast & Sunshine Coast is Elabana Falls. It is an hour and 45 minute drive from Brisbane. Elabana is just one of quite a few stunning waterfalls in Lamington National Park. The walk to Elabana Falls is about 1 hour from the car park at O'Reilly's. You will venture through dense rainforest and cross muddy tracks so make sure you wear a decent pair of hiking shoes. You will quite possibly get wet feet crossing the creek at Picnic rock too.
It is a gorgeous walk through nature before reaching the huge boulders at Elabana Falls. To see the full beauty of this waterfall you will need to scramble across the gigantic rocks to get to the other side. You can even climb up the side bank to get to the top level for a different view and go for a swim.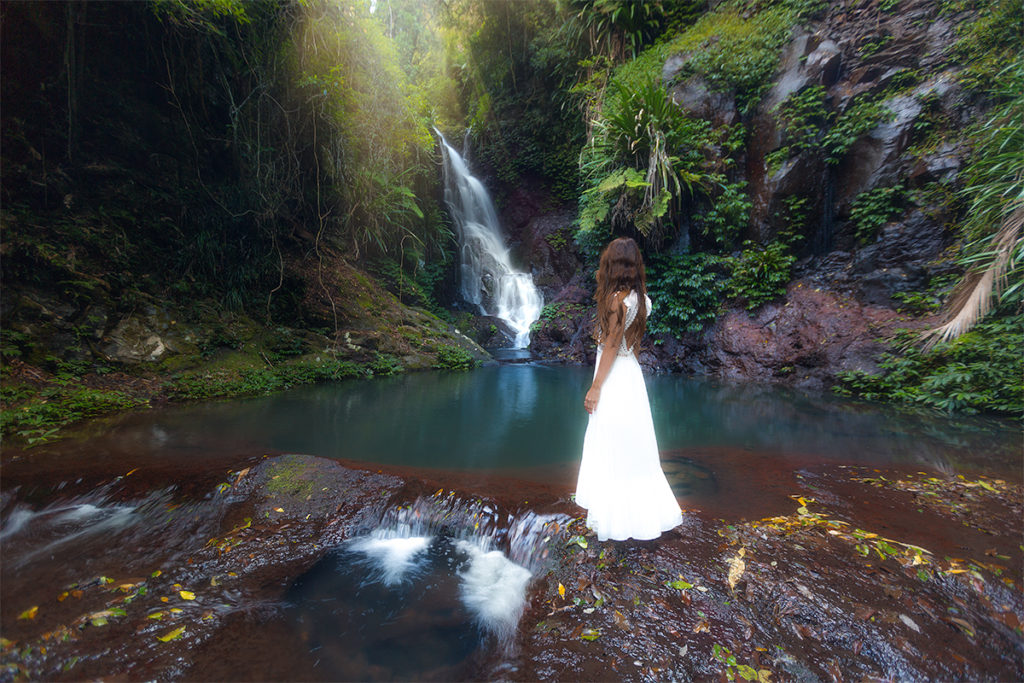 4. Gwongurai Falls – Lamington National Park, Gold Coast
If you continue down the Taloona Creek Circuit you come across a waterfall that not many people can pronounce the name of. I think this one would have to be my favourite of them all. It is stunning. There is a viewing point at the top or if you are game you can scramble down the embankment to reach the bottom for the most photogenic view.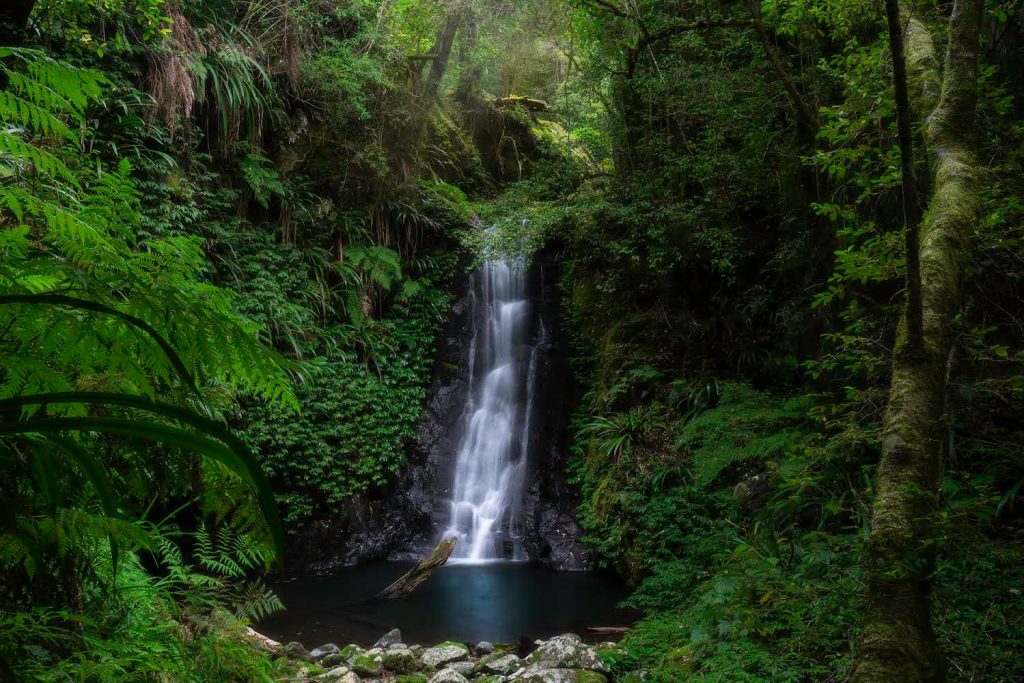 5. Chalahn Falls – Lamington National Park
A bit further along from Gwongurai Falls is the spectacular Chalahn Falls. Its looks best after a good down pouring of rain. The walk from the car park at O'Riellys is a good 1 hour and 30 minutes one way but well worth it for the breath taking scenery.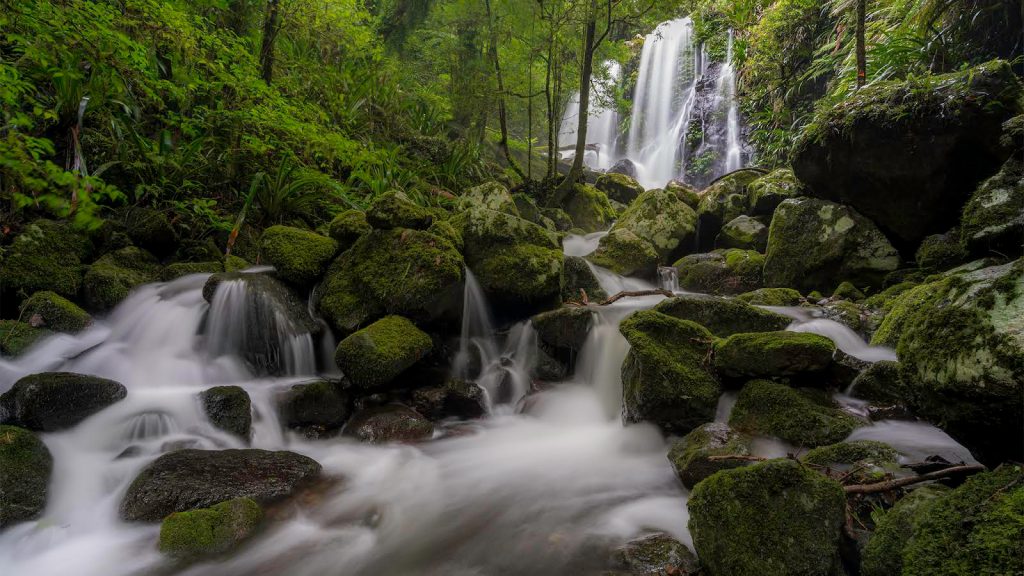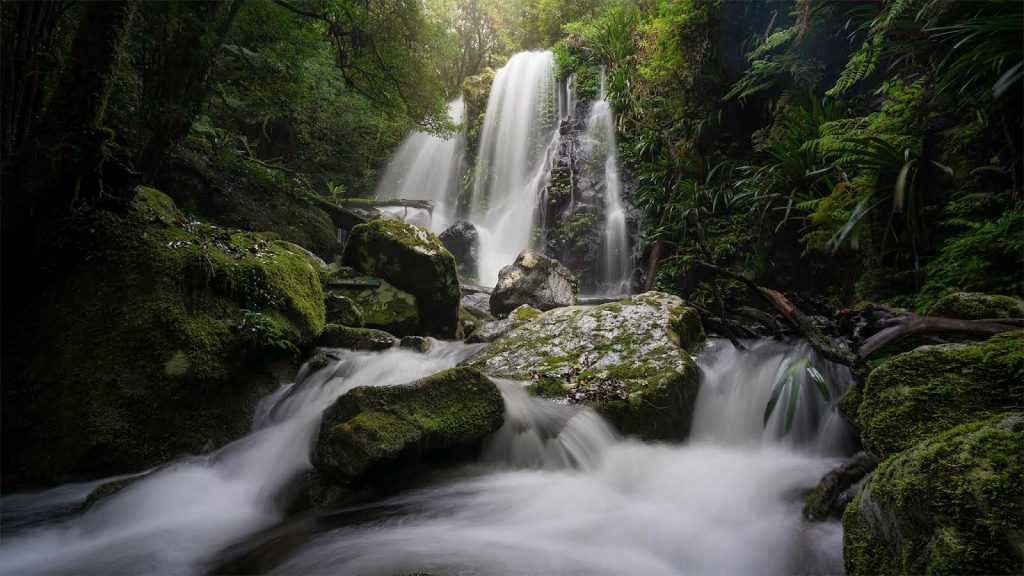 6. Serenity Falls – Buderim Forest Park
Serenity Falls is just over an hours drive from Brisbane located in the Buderim Forest park on the Sunshine Coast. The cool thing about Serenity Falls is that it sits in a tropical oasis hidden away in the middle of suburbia. The walk to Serenity Falls is about 15 minutes. Because this place is very popular the best time to go is very early in the morning or late afternoon. You can swim in the rock pool beneath the falls and it is another waterfall that you can walk behind.
7. Purlingbrook Falls, Springbrook National Park
Coming in at Number 7 for the best waterfalls on the Gold Coast & Sunshine Coast is Purlingbrook Falls. Another epic waterfall located in Springbrook National Park, not far from Twin Falls. There are two lookouts at the top of the falls where you can view the spectacular 120 metre drop. You can also walk to the bottom which takes about 30 minutes and go for swim down there.
8. Curtis Falls – Tamborine National Park
Last but not least, Curtis Falls which is about an hours drive from Brisbane located in the Tamborine National Park. Curtis Falls is a quick and easy 15 minute walk to the viewing platform. That is the only place to view these falls as they are pretty strict about leaving the path as to protect the wild life that lives there. Because of it's easy access it is a very busy waterfall so try to get there early in the morning or late in the afternoon. It is a very pretty cascade that flows into a rock pool. There is no swimming here. Tamborine Village is a great place for a day out as there are plenty of cute cafes and craft shops to visit.
And that's it. I hope you enjoyed this review of the best waterfalls on the Gold Coast & Sunshine Coast. Which one is your favourite? And are there any I missed? Let me know by leaving a comment below! 🙂
Some other blogs that you may find of interest:
How to find the best waterfalls in Lamington National Park