On my recent road tripping adventure from Canberra to the Snowy Mountains my next destination was Bermagui on the south coast of New South Wales. Bermagui is famous for its deep sea and game fishing – including yellow fin tuna and marlin – and estuary fishing in the surrounding rivers and lakes. Bermagui hugs the edges of its harbour, and nestles under the shadow of Gulaga (Mt Dromedary), once an active volcano 60 million years ago. This gorgeous little fishing town is as quaint as it is quiet and still has that undiscovered feel about it. Its also an amazing location for some whale watching or lazing on the stunning beaches. So what is there to do in this beautiful little town? Let me show you 5 reasons to visit the stunning town of Bermagui!
1. Beautiful Beaches
If you're a beach lover then you are spoiled for choice with the stunning beaches in Bermagui. The water is crystal clear and the sand is soft and white. If you are travelling with children or don't want to be swimming with big waves crashing into you, there is Horseshoe Bay which is a beautiful little inlet between two headlands with calm, inviting waters.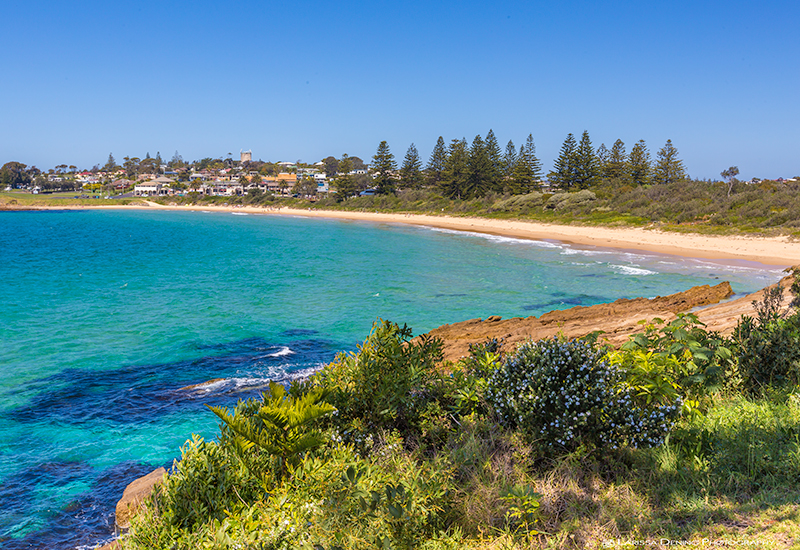 If you are after a bit of wave action then you can head around to Beares Beach which is another stunning beach with beautiful blue water and some rocky outcrops and rock pools to explore.
Cuttagee Beach is a regular gathering place for local surfers and the lake provides safe and shallow waters for children to play.
But if swimming and sunbathing as a naturist is your preference, visit Armands Beach which is declared by Bega Valley Shire Council as a legal clothes optional beach.
2. Fresh Seafood
The Sapphire Coast is one of Australia's last great wilderness areas. Lagoons, estuaries, beaches and reefs. Pristine, unpolluted water and a healthy aquatic diversity to match.
This is the place, the 'meeting of the waters', where two great ocean currents collide. The two systems – one from the Equator and one from Antartica – create a superhighway for thousands of species of marine life.
There are a tonne of seafood restaurants and fish and chip cafes around Bermagui. I had to try some good old fish and chips while I was staying here and I have to say it was the best fish and chips I have ever tasted. I highly recommend the Saltwater Cafe down by the marina.
3. Photography Opportunities
If you are into photography and you probably are if you are reading this blog then Bermagui is a photographers paradise. There is the stunning Camel Rock and Horsehead Rock at the northern end of Bermagui, the beaches as mentioned above, there is a natural ocean pool – The Blue pool that is filled up by the ocean current splashing into it with fresh water, there are whales all along the coast line and rocky outcrops everywhere. There is also Lake Wallaga that sits to the West of Bermagui. You really can't ask for more!
4. The Blue Pool
The renowned Blue Pool is an iconic natural rock pool at the base of the cliff on Scenic Drive. A lovely spot for a picnic and one of the best spots to enjoy your fish and chips during the whale watching season. Spectacular views up and down the coastline including views to Montague Island. Plus swimming in this gorgeous natural ocean pool like old matey at sunrise.
5. Relaxation
Lastly you can't help but feel relaxed as soon as you enter this beautiful little coastal town. I highly recommend staying at the gorgeous Seaview Beach Cottages. Proud winners of the 2013 South Coast Tourism Awards.
Located just 250 metres from Bermagui Harbour, Seaview Beach Houses are perfectly positioned to enjoy the captivating ocean views of the NSW Far South Coast. Plus also in walking distance to the charming seaside town of Bermagui.
The property was originally built in the 1930's then was completely rebuilt and refurbished in 2012. The immaculate, self-contained holiday accommodation allows you to completely relax on your next holiday, last-minute getaway, golfing weekend or fishing trip. I absolutely loved staying here and found it really hard to pack up and move on to the next destination.
Seaview Beach Houses
86-88 Lamont Street, Bermagui, on the corner of Bent Street and Lamont Street.
02 6493 3444
After spending two days in this beautiful little town I found it really hard to leave. Surrounded by national parks and pristine beaches and waterways, it is not hard to understand why many are discovering and falling in love with this very special location, recognised as one of Australia's National Landscapes.
Have you been to Bermagui? What was your experience like? I would love to know, so leave a comment below!!