Last week I had some time off before I started my new job so I decided to do a spur of the moment road trip and spend 3 amazing days in Airlie Beach. Normally I would save the 12 hours of driving and fly up there but I've never done a 12 hour stint before, so I was up for the adventure! At 6pm Friday night after dinner and stocking up on snacks for the trip I set off. I drove for about 7 hours straight listening, singing and dancing to all the best road trip songs on Spotify before getting too sleepy. I pulled over in a rest area ( somewhere between Rockhampton and Mackay), lay the seat back and slept until just before sunrise.
After waking up I had a bit of a stretch and took off again for another 5 hours. It was lovely driving through the country as the sun rose and cast a pink glow over the landscape and trees that were surrounded by thick fog. I arrived in Airlie Beach and headed straight for that amazing aqua blue water. After stretching the legs i went and found a place for a very cold smoothie as it was HOT in Airlie Beach!
Then it was time to check in to my amazing accomodation – Peppers Airlie Beach 😍
Peppers Airlie Beach
Peppers Airlie Beach sits on the side of the mountain that overlooks the gorgeous marina. Beautifully modern, comfortable rooms surround the most stunning infinity pool, restaurant and bar. It's a short drive or walk into the main part of Airlie Beach which is a cute little backpacker town with loads of cafes, restaurants, pubs and tour companies. You can catch a boat out to the Great Barrier Reef for the day or explore the other islands in the Whitsundays including the stunning Whitehaven Beach from Airlie Beach. It's a great base for exploring this tropical paradise. The breakfasts at Peppers Airlie Beach are pretty amazing too and they even have a vegan option which I was very impressed with!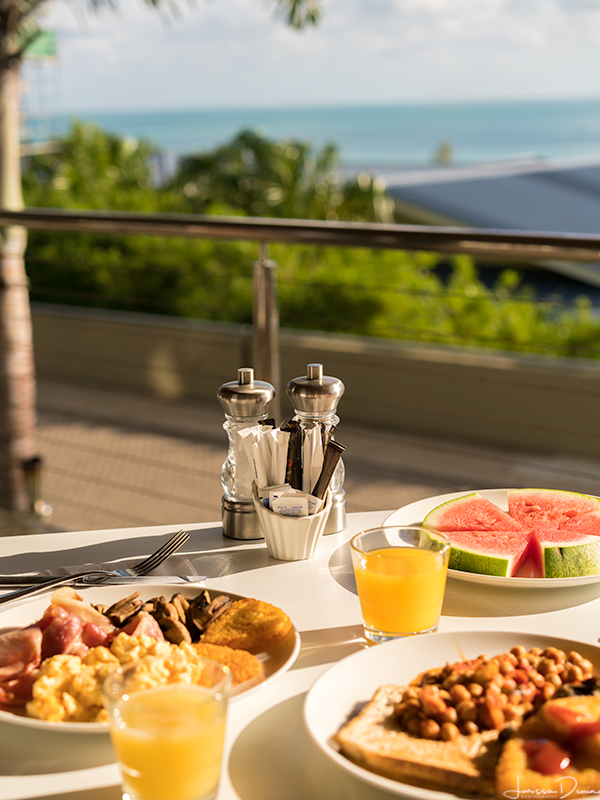 Sunset in Airlie Beach
There are plenty of places to go for sunset around Airlie Beach. You can head down to the marina, there is a gorgeous little old jetty further around to the right of the marina, anywhere along the beach near Main Street etc. Unfortunately the tide was out a long way while I was there which made it difficult to shoot any of those locations. I did find a lookout on top of the hill near the Welcome to Airlie Beach sign that has awesome 180 degree views overlooking the ocean and a second marina. Note: If it's low tide, try to find a lookout up high so that you are not photographing mud!
Airlie Beach Lagoon
Airlie Beach Lagoon is situated right in the middle of Airlie Beach. It consists of a lot of different sized pools and water features. A great spot for kids and adults to cool off in the middle of the day with beautiful views over Airlie Bay. I had fun splashing around in there for a few hours then flying the drone around on the stunningly blue day.
Whitehaven Beach
I have been to Whitehaven Beach once before which you can read about here. You absolutely cannot visit the Whitsundays and not do a day trip to Whitehaven Beach so I was super excited to head back over there again. This has to be my favourite beach in all of Australia. For a half day trip which gives you 3 hours on Whitehaven beach it costs $99 but it is so worth it to see the amazingly clear water and the whitest sand in the world. I really wanted to get some photos from Hill Inlet which is 8km down the end from where the boat drops you off, so I thought I would walk for a bit and then fly my Mavic Pro drone the rest of the way. It is too far to walk down and back before you have to get back on the boat. Unfortunately it was so windy that day the battery ran out a lot quicker than expected. I got the drone 5km down the beach took some shots then tried to fly it back as it was screaming at me to bring it home. It got to about 1.5km back to where I was and crashed in the trees. I then spent two hours looking for it.
Note: When your drone tells you to bring it home, listen to it!!
I did manage to have a quick 10 minute swim before i had to get back on the boat! This place is so beautiful that I will definitely be back to visit many more times though. Hopefully I will manage to get that shot from Hill Inlet one day!
Sunrise Airlie Beach
Sunrise options are similar to sunset. Anywhere down by the water is always nice unless the tide is way out as it was when I was there. I decided to go to the lagoon and I also wanted to fly the drone and make sure it was still ok after the crash which it was thankfully!
Hydeaway Bay
If you have a car and want to do a bit of exploring while you are in Airlie Beach, then a day trip to Hydeaway Bay is worth the drive. I thought the water was aqua blue at Airlie Beach but the colour of the water at Hydeaway Bay is off the charts. It is the most aqua blue colour I have ever seen. I fell in love with it immediately! There is also a cool coconut tree that hangs out towards the beach and I had fun looking for star fish shells which I have never come across before.
I headed back home again after hanging out at Hydeaway Bay for a few hours. The drive went surprisingly fast.
Big thanks to Peppers Airlie Beach for the 3 night stay. I had a blast and the accomodation was amazing. I will definitely be back again!
If you would like to stay at Peppers Airlie Beach while visiting the Whitsundays click on the links below. You won't be disappointed!
Mount Whitsunday Drive
AIRLIE BEACH QLD 4802
Ph: 1300 737 444
Have you been to Airlie Beach before? What did you think of it? I would love to know so leave a comment below and check out my video from here! ☺️