I had the pleasure of spending a weekend at Noosa Heads recently. It was exactly what I needed for some relaxation and beach therapy. This time hubby got to come too!
I stayed at Noosa Blue Resort which is located up the hill from Hastings Street. It is a 4 star resort with a modern feel and an awesome pool and heated outdoor spa. It is such a convenient location, close to everything you need in Noosa but quiet and relaxing.
After arriving late from Brisbane due to peak hour traffic we headed straight to dinner. Pizza was on the menu and we grabbed at table at Zacharys Gourmet Pizza Bar in Hastings Street. The place was buzzing as it was a Friday night. The pizza was delicious and the beer was cold. We enjoyed the atmosphere and watching a bit of footy on the TV.
Back at our room at Noosa Blue after dinner I discovered my favourite movie was on the TV. "I love you man" with Paul Rudd. This movie makes me laugh so much and if you haven't seen it, you really should.
The next morning we headed down to Little Cove for sunrise. This beach has big round boulders everywhere which make for a great foreground interest.
Stand Up Paddle Boarding
After sunrise it was off to try some Stand Up Paddle Boarding. I was so excited because I have always wanted to try this. Rick from Noosa Stand Up Paddle Boards was an awesome (and patient) teacher. He was the first guy to bring Stand Up paddle boarding to Australian 25 years ago. There was no experience needed as the lesson is taken in the calm waters of Noosa Sound. It is a safe place to learn and build up confidence before advancing to the ocean.
Rick showed us the basics and off we went for a paddle around the river. It was a warm morning but the storm clouds quickly rolled in. It didn't take too long to get the hang of it and then the wind picked up. I got swept right back in to the shore and almost ran into a boat. Rick came over and told me exactly what to do to get myself out of this pickle. It was great experience as I will now know for the next time something like that happens. I am definitely addicted to supping now.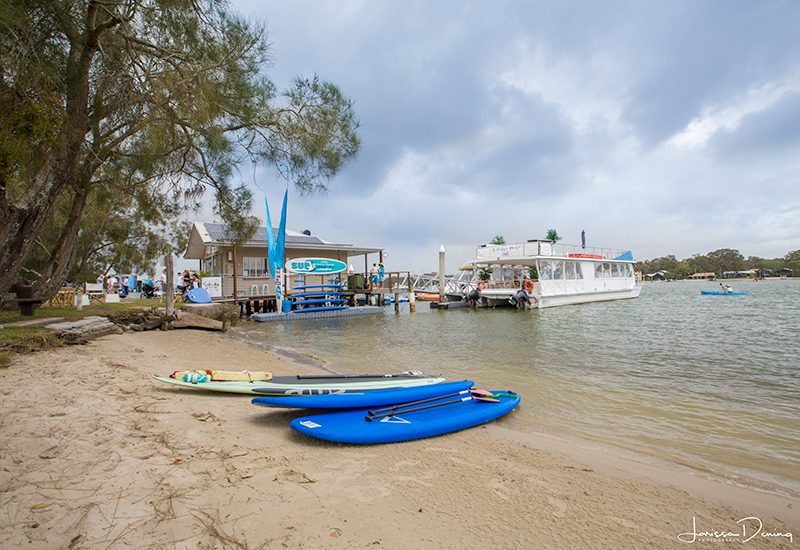 After all the supping excitement we had a coffee at Catalina right next door to Noosa Stand Up Paddle boarding (the best coffee shop in Noosa according to my coffee snob husband).
Lunch at Noosa Boathouse
Next stop was lunch at Noosa Boathouse in Noosaville. A few steps down from Noosa Stand Up Paddle Boarding to be exact. Noosa Boathouse is an absolute waterfront location offering a relaxed dining experience, panoramic water views with a modern Australia menu that lets seasonal produce shine.
I had the sword fish with thai yellow curry sauce and asian vegetables. It was to die for! Andrew had fish and chips which was pretty yum too! The service was impeccable and it was so lovely to enjoy this delicious meal with beautiful views of the river all around you!
Lake MacDonald
After lunch we took a drive through the Noosa hinterland after checking out the Noosa Country Drive section of the Visit Noosa website. In the Southern Loop itinerary I found Lake Macdonald. I had never heard of it before so of course that's where we headed.
Lake Macdonald has beautiful views of the mountains in the distance and is an excellent place for bird watching. It's a great place to have a picnic after you have picked up some supplies from the gorgeous little nearby town of Cooroy.
Mount Tinbeerwah
After having a relax at Lake Macdonald we headed up to the summit of Mount Tinbeerwah. This mountain is an easy one as you can drive basically all the way to the top. Once you reach the car park it is a short walk through the bush on paved paths for beautiful views over the ocean.
Walking a bit further on, you get views over the hinterland and mountains. It's a beautiful spot to watch the sun go down in the afternoon which we did.
Dinner at El Capitano Pizzeria and Bar
After a big day of stand up paddle boarding, exploring and climbing mountains, I was starving so we headed down to Hastings Street for Pizza at El Capitano Pizzeria and Bar. These pizzas are made with organic sourdough pizza bases and fresh local toppings.
We ordered half Grilled Split Tiger Prawns and half Sweet Potato and Rosemary. My new favourite pizza is the Sweet Potato and Rosemary from this place. It is amazing! This pizzeria is upstairs from Betty's Burgers in a greek style restaurant. The atmosphere is cosy and romantic. There was guy singing in the corner with just his guitar and his beautiful voice. It was a perfect evening.
After this amazing meal we headed back to Noosa Blue and jumped into the heated spa which was so relaxing after our big day.
I slept like a baby that night.
Sunrise at Sunshine Beach
Sunrise beach is one of my favourite beaches in Australia. It is a really clean beach with white sand and aqua blue water. The sunrise was a pretty pastel that morning. Just the way I like them.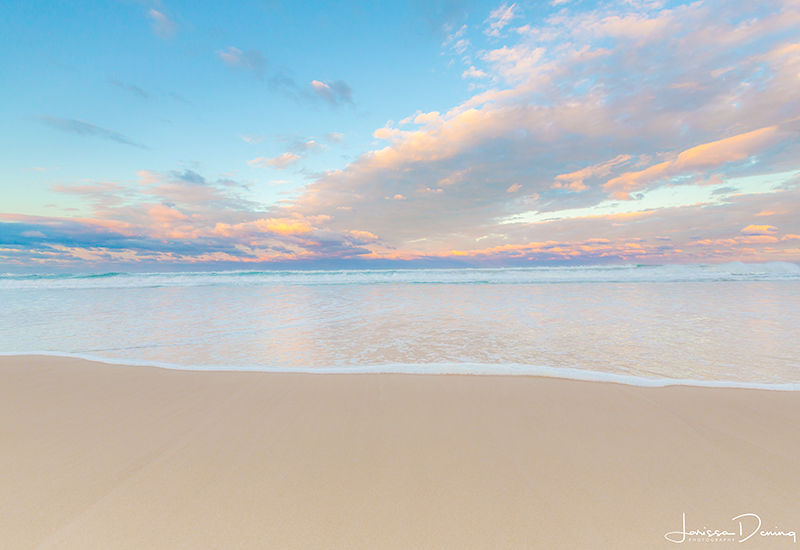 After sunrise and a bit of a relax on Sunshine beach, we had a traditional Aussie breakfast of scrambled eggs and bacon at Sirocco in Noosaville to build up our reserves before our big hike through the Noosa National Park.
Noosa National Park
I have only ever walked from the Noosa main beach end through Noosa National Park so I thought I would see what it was like to walk from Sunshine Beach end. I have to say it was stunning and I wish that I had discovered this section of coastline earlier. It really is beautiful.
After climbing the steep mountain which is a great butt workout you get amazing views over Sunshine beach and the ocean.
The first cove that you come across is absolutely stunning. You can actually go down onto this secluded beach at low tide.
Alexandria Bay
After walking for another 10 minutes or so you come across Alexandria Beach. This beach is by far Queensland's most popular unofficial nudist beach so don't be shocked when you see a few willies on the loose ?.
It is another stunning beach with pristine sand and gorgeous clear blue water.
The walk along this beach takes quite a while before reaching the western end and heading back up the mountain into the forest again.
After walking for 10 more minutes you come across Hells Gate which is a headland that looks over Alexandria Bay to your right and Granite Bay to your left.
Granite Bay and the Fairy Pools
After walking a further 10-15 minutes you come to Granite Bay. Another stunning little cove that is accessible during low tide.
You can also find the fairy pools at the eastern end of Granite Bay at low tide. They are very popular these days, not the hidden secret that only the local knew about but still a beautiful little spot to swim when the the tide is right.
This is the smaller of two Fairy Pools. The other one is much more impressive but always way to crowded.
After a lovely refreshing swim we walked all the way back to Sunshine beach to grab the car and find a spot of lunch as we were starving after our massive walk.
Sunset at Laguna Bay
After a delicious lunch we mooched around the Noosa River for a few hours then headed back over to the start of the Noosa National Park for sunset looking across to Laguna Bay.
Sunset was gorgeous and everyone was out and about enjoying it on this gorgeous Spring day!
After a fabulous weekend of fun, food and relaxation I am so in love with Noosa. It really is an amazing destination for a weekend getaway or for a beach holiday. It has it all and still retains that quiet coastal feel.
I can't wait for my next trip to Noosa. It really is my favourite new destination.
Big thanks to Visit Noosa for hosting my stay. As always, all opinions are my own.
Have you been to Noosa before? What was your experience like? I would love to know, so leave a comment below.