Having never been to South Australia before I was surprised at how beautiful and different it was to my home state of Queensland.
Instead of being humid and balmy, the climate is dry and crisp. Perfect for the many, many vineyards that produce some of the best wine in the world.
I was lucky enough to catch the inaugeral Jetstar flight from Maroochydore to Adelaide which only took about 2 hours and 15 minutes.
Arriving in Adelaide two days after a 50 year storm that had torn through and a state wide black out plunging everyone into darkness for a few days, I was surprised to find the city of Adelaide still buzzing.
It was lovely to see the people of Adelaide soldiering on in the face of disaster.
So let me show you my 7 Memorable moment in South Australia!
1. Adelaide Central Market
The Adelaide Central Market has been a thriving hub of food and culture for over 145 years. With over 80 traders under one roof, the Market offers a huge range of fresh food including fruit and vegetables, meat and poultry, seafood, cheeses, bakery, smallgoods and health foods, along with some of Adelaide's most popular cafes and eateries. With over 8.5 million visitors every year, the Adelaide Central Market remains the food Mecca for multicultural cuisine and fresh produce.
It is also home to the famous Lucias Pizza Bar that is an institition of Italian food. Started in 1957 by Lucia Rosella, the mother of the current owners. Home styled Italian cooking at its best and fantastic coffee.
Jamface is another well known stall at the markets and is home to Poh Ling from Masterchef. It offers an assortment of sweets, condiments and pastry options.
You can't miss the best Cheese shop in all of South Australia either – Say Cheese. The biggest and best selection of local, interstate and imported cheeses, local pates, dips and free range eggs, full antipasto selection including local olives, olive oil, crackers and breads, cheese accompaniments such as caramelised figs, local fruit pastes and fresh made chutneys.
I could have spent hours sampling all the amazing food that is on offer here. It is truly a foodie heaven and I am considering moving to Adelaide just for this market! haha.
2. Adelaide Hills
You can't go to Adelaide without exploring all the amazing wineries in the Adelaide Hills. The Adelaide Hills wine region is arguably Australia's most sophisticated and beautiful cool climate wine region. Nestled amongst apple and cherry orchards and rolling fields, vineyards are scattered throughout the 70-kilometre length of this varied landscape. It's clean, high altitude environment produces distinctive and elegant wines that can be tasted at approximately 50 cellar doors throughout the spectacular landscape.
An awesome way to sample some of these fine wines is by joining in on a wine tour with Life is a Cabernet. Our tour guide – Ralf Hadzic (formerly Fat Cat – yes the 90's children's tv character), was full of stories and really made the day so much fun.
We had the pleasure of trying the "ChocoVino Experience" at Hahndorf Hill Winery. Fine wines are matched the worlds most exclusive chocolate.
Hahndorf Hill Winery specialises in exciting new wave wines, including Gruner Veltliner and Blaufrankish.
The next stop was Pike and Joyce Wines for more wine tasting and lunch. The wine here was amazing and the food incredible.
Pike & Joyce is perched high in the Adelaide Hills, just 40 minutes from the CBD with spectacular 180 degree views of the hills, Onkaparinga Valley and beyond.
The Pike family and Joyce family have created not just your average cellar door – but the sights, sounds and tastes of the Adelaide Hills in one amazing experience.
3. Haigh's Chocolate Factory
Haigh's Chocolates is Australia's oldest family owned chocolate maker. They have been making chocolate in Adelaide since 1915 and are committed to the art of premium chocolate making from the cocoa bean.
We were lucky enough to do a tour of the factory and see the meticulous work that goes into crafting every single chocolate. We also got to sample lots of chocolate. I have to say that Haigh's Chocolate is now my favourite brand. It is smooth, creamy and delicious. If you haven't tried Haigh's Chocolate, I highly recommend it.
4. Hahndorf
Hahndorf is the oldest surviving German Village in Australia and was settled back in 1839. Many of the original buildings and traditions have been retained. The picturesque village is ideally situated as a base for exploring and visiting the wine areas of the Adelaide Hills, the Barossa and McLaren Vale.
Authentic German food is served in Hahndorf, as well as modern Australian and European cuisine, country style cooking, great coffee and delectable cakes. German sausage and smallgoods are also available.
My favourite cottage was the Grass Roots and Vintage store in the main street. This eclectic store is housed in an old barn that is covered in the most beautiful vine. Everything in the store is retro and brings back so many memories of being a kid. From the melamine plates to the old kitchen scales. I could have spent hours in this vintage store. This place is a must see if you are in Hahndorf and Adrian the owner is so lovely!
You also have to check out Herbees Garden Cafe and the Fairy Place right behind it especially if you have kids.
You can't leave Hahndorf without having a wonder through 3 Wishes Candle Barn. It is the most amazing candle store and smells absolutely divine.
This is one of the cutest little towns I have ever explored in Australia and there is so much more than what I have listed here. It's definitely a must see if you visit South Australia.
5. McLaren Vale
Only 45 minute south of Adelaide, McLaren Vale is home to sustainable wine growing, world-class wines and culinary experiences as well as sprawling landscapes. South Australia's viticultural origins began in McLaren Vale and the mediterranean climate continues to drive the region's wine style and diverse food culture.
Best known for Shiraz, McLaren Vale also excels in the production of ultra premium Grenache and Cabernet.
The regions 30kms of breath taking coastline and ranges defines McLaren Vale's boundaries, and the distinct landscapes and environment within.
Driving to McLaren Vale takes you down many scenic gum tree lined roads before reaching the never ending and stunning views of vineyard after vineyard. It truly is a sight to see.
I also loved seeing the wild Canola that is filling the paddocks around South Australia right now. There are also lots of old abandoned buildings that I love exploring too!
6. Kangaroo Island
Think of an island with 509km of Coastline & 155km from the East Coast to the West Coast. With native bushland, wildlife, adventure & exploring. Where pristine beaches, local wines & sunsets are on your doorstep.
Kangaroo Island is the most remote and rugged place I have ever seen. From Seal Bay where hundreds of fur seal laze on the beach all day to Flinders Chase National Park which is filled with so much raw and natural beauty. The whole island almost feels untouched.
There are so many fantastic places to see on Kangaroo Island and one of the best ways to experience the splendid scenery is to self-drive. You can take your own car to Kangaroo Island by ferry or hire a car when you get there. The ride on the Sealink Ferry from Cape Jervis to Penneshaw and vice versa is a beautiful journey in itself with views of aqua blue water and rolling green hills from the mainland and Kangaroo Island. The crossing takes 45 minutes and there are several trips per day.
Flinders Chase National Park
Flinders Chase National Park is a protected area of South Australia located at the western end of Kangaroo Island. It is a sanctuary for endangered species and home to a few geological phenomena including the Remarkable Rocks and Admiral Arch which are the most well known features.
No Kangaroo Island holiday would be complete without a trek to one of the island's signature landmarks, Remarkable Rocks. It took 500 million years for rain, wind, and pounding waves to create these aptly named granite boulders.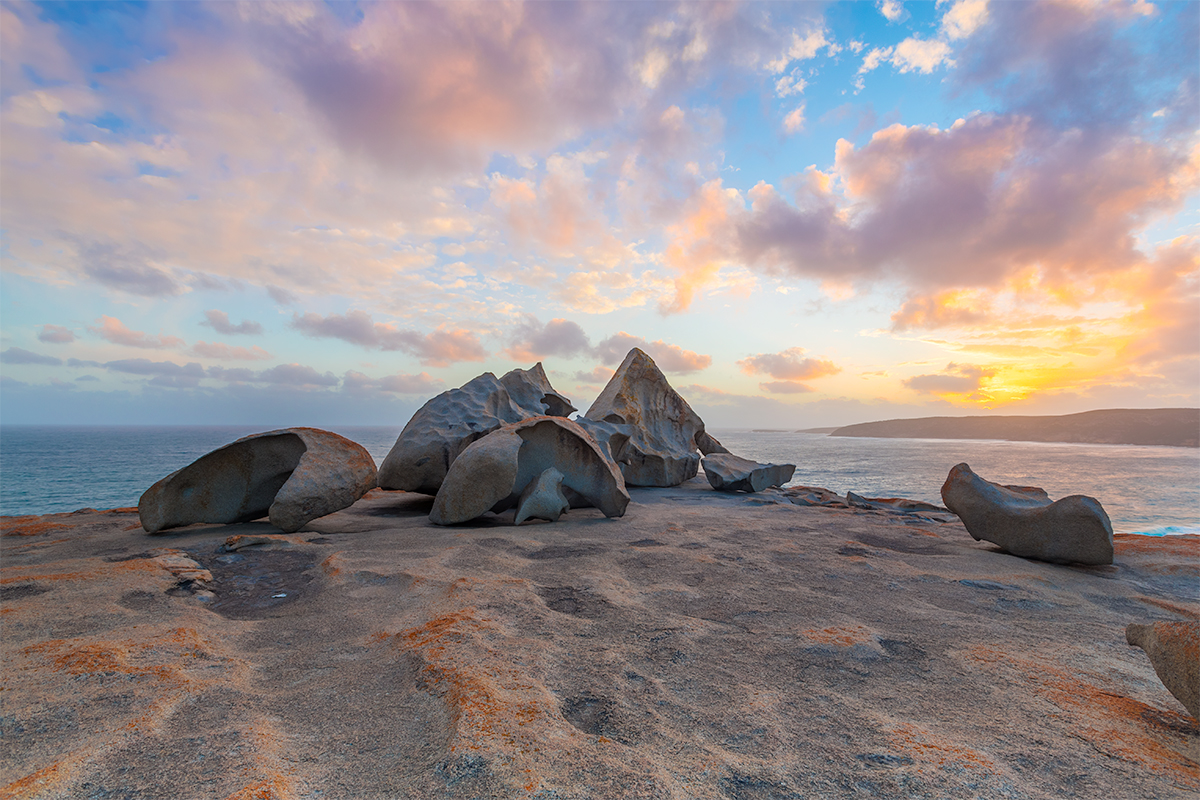 Admirals Arch
Admirals Arch is one of Kangaroo Island's most impressive and unusual natural landmarks. It took thousands of years of erosion to create this distinctive rock bridge near the Cape du Couedic Lighthouse.
The Admirals Arch viewing platform is also an ideal place to observe the New Zealand fur seal colony that live below the landmark.
7. Fleurieu Peninsula
The Fleurieu Peninsula is a stunning peninsula located south of Adelaide. With aqua blue water and rolling green hills, you are spoilt for beauty. It is a mecca of surf beaches, historic towns, whale watching and fishing. Patterned with vineyards, olive groves and almond plantations running down to the sea, the Fleurieu is Adelaide's weekend playground.
Rapid Bay
As I was driving down to Rapid Bay I came across a gigantic field of Salvation Jane (or Patersons Curse as it's also known). This plant is actually a pest but you have to appreciate the beauty of seeing it on such a massive scale below the rolling green hills.
Second Valley
Another stunning part of the Fleurieu Peninsula is Second Valley. This is also a great spot for fishing on the jetty and swimming in the bay.
I hope you enjoyed my 7 Memorable Moments in South Australia.
This was only a small area of South Australia that I got to explore. I hope to get back down again one day and see more of this incredible state of Australia.
Big thanks to Jetstar for flying me to Adelaide and back. Jetstar have flights between Maroochydore and Adelaide on Fridays and Sundays. Check the website for details:
Thanks to Sealink for getting me to and from Kangaroo Island. There is a wealth of information on their website if you are looking to visit Kangaroo Island. See the link below:
Lastly, I am so grateful to the amazing team at South Australia Tourism Commission for making this trip possible. You guys were awesome and so good to deal with.
Have you been to South Australia? What was your experience like? Leave a comment below and let me know!