Towards the end of the year the South Island of New Zealand comes alive with some stunningly beautiful flowers called lupins. They are technically classified as a weed but they are so pretty that tourists from all over the world come to see them. They bloom in gigantic groups all around the lakes and spread all the way to down to and beyond Queenstown. This is my adventure of chasing lupins in New Zealand…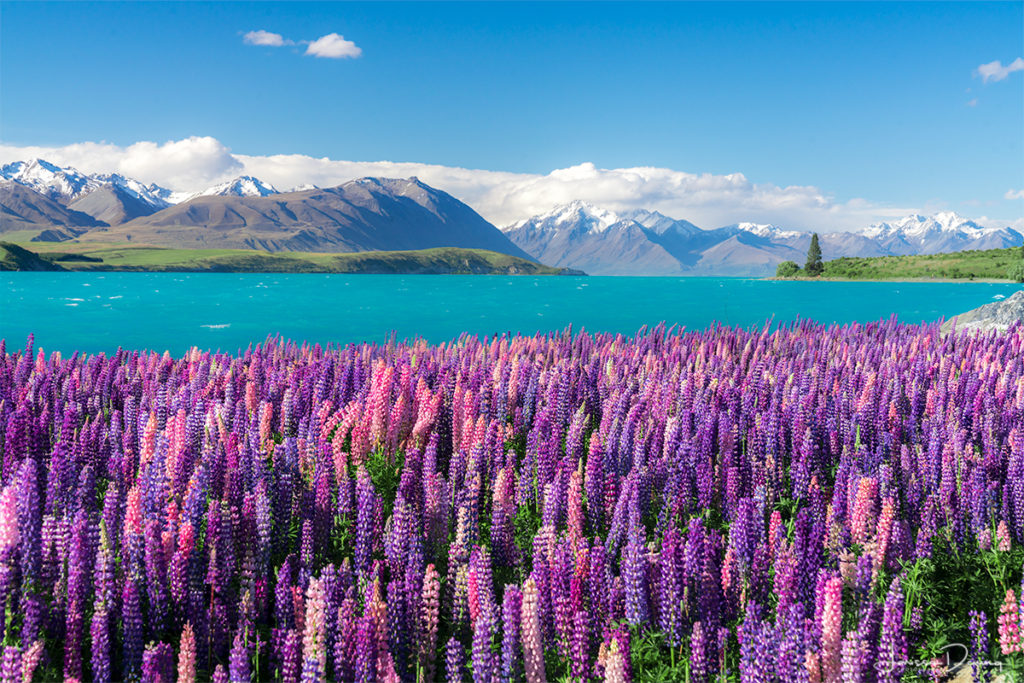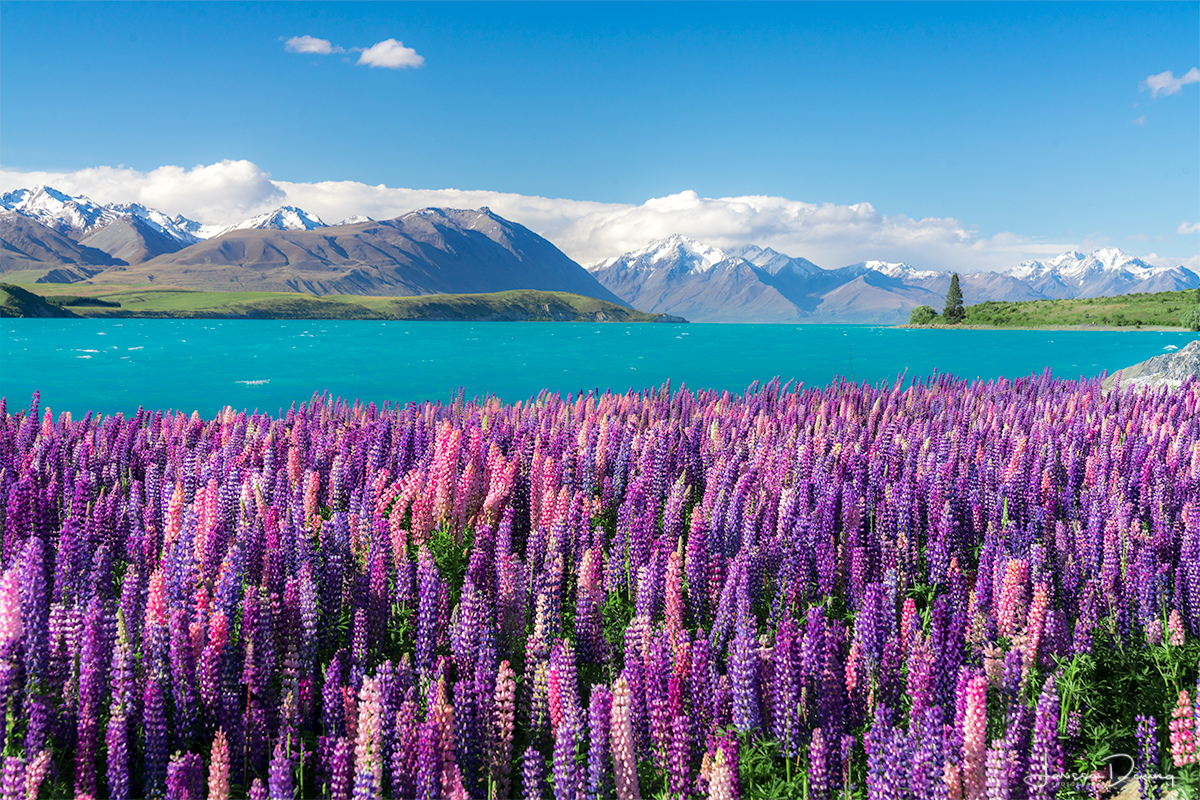 My dream…
I first saw a photo of the lupins surrounding Lake Tekapo 10 years ago. Being a landscape photographer I made a mental note that I would see this breath taking sight with my own eyes one day.
After attempting to get to New Zealand in the last week of November for quite a few years, 2019 was finally the year! I was due to run a photography tour with my business partner Steve but he had started a brand new job and was unable to take leave so we had to cancel it.
The lupins were still on my mind, I had some annual leave up my sleeve so I checked with my partner if he was keen. Turns out he was so we booked flights into Queenstown and a Jucy Van for the week!
Queenstown
Flying into Queenstown we didn't get to see the beautiful mountains as they were covered in grey cloud. Thankfully the cloud and rain cleared after an hour and we had a lovely clear, crisp afternoon. After collecting our bags and our Jucy Van we headed to the nearest supermarket to stock up on food for the week.
Our Jucy van had a gas stove and a fridge so we were able to cook and keep food in the van all week. Great way to save money while travelling when you don't need to eat out all the time!
We stayed in holiday parks the whole week so that we had power, showers and toilets. Queenstown Lakeview Holiday Park is one of the best in Queenstown. A great location with a quick walk into town, clean showers and toilets and decent kitchen facilities.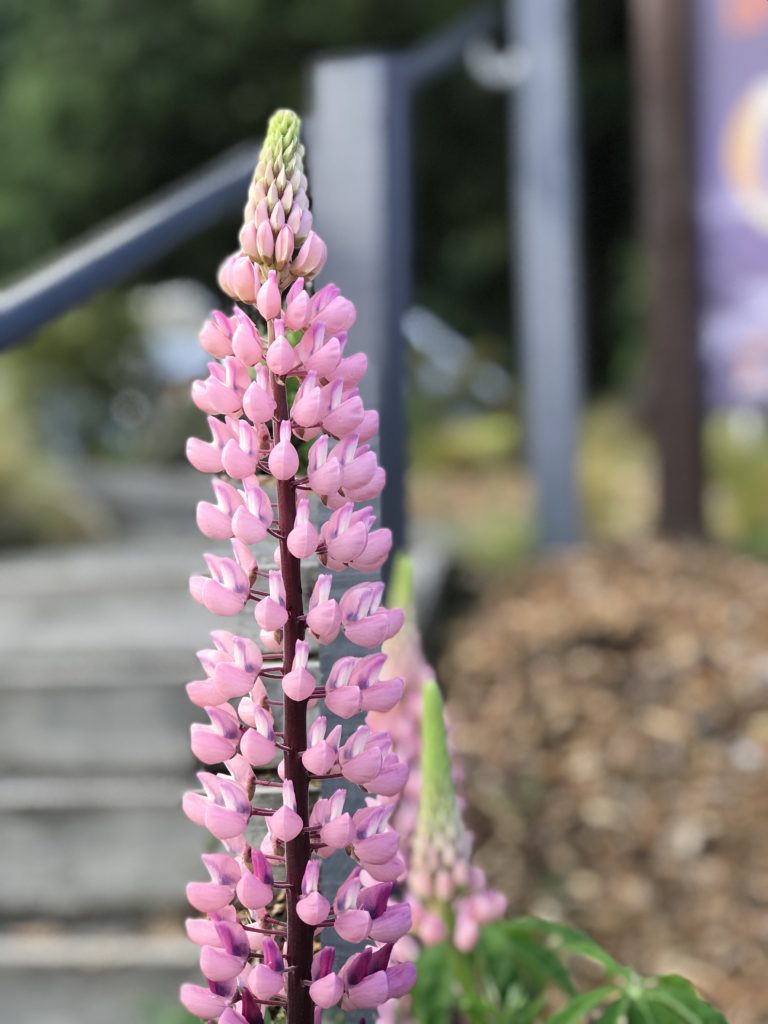 That afternoon we went for a drive down to Glenorchy. This is one of the most beautiful drives in the world. It was almost sunset and I spotted some lupins on the side of the road. They were by the lake with snow covered mountains in the background. We pulled over and I climbed down into the flowers and started clicking away while Kevin flew his drone around which you will see in the video below. It was so peaceful by the lake with the water lapping at my feet as the sun went down.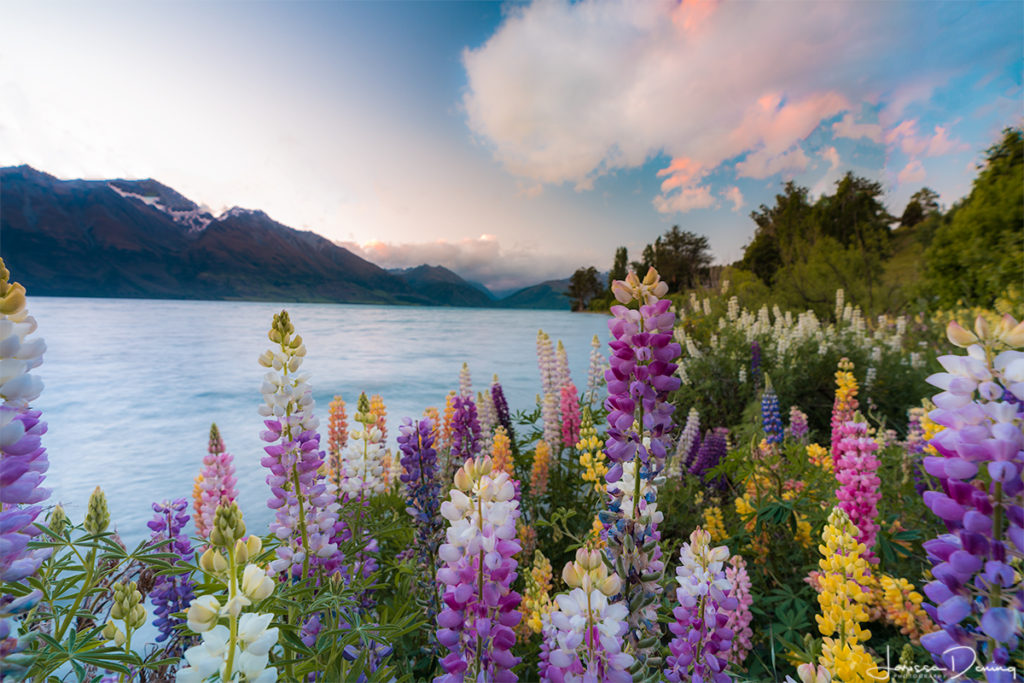 Quad Biking Queenstown
The next day was looking a bit gloomy so we decided to go Quad biking. I rode motorbikes when I was a kid livng in the country and loved it so much. I was keen as a bean to get back on one. We booked in with Off Road Adventures and they were awesome! After filling out some paper work in the main office in town they took us into the hills for some dirt squirting action. Once kitted up with gloves, helmet and gum boots we all jumped on a bike each and did some safety laps.
After they had figured out everyone's confidence level we split into groups. Luckily I got put in the fast group and off we went. It was loads of fun hooning around the dirt tracks, over jumps and through mud puddles. We all got completely soaking wet and covered in mud.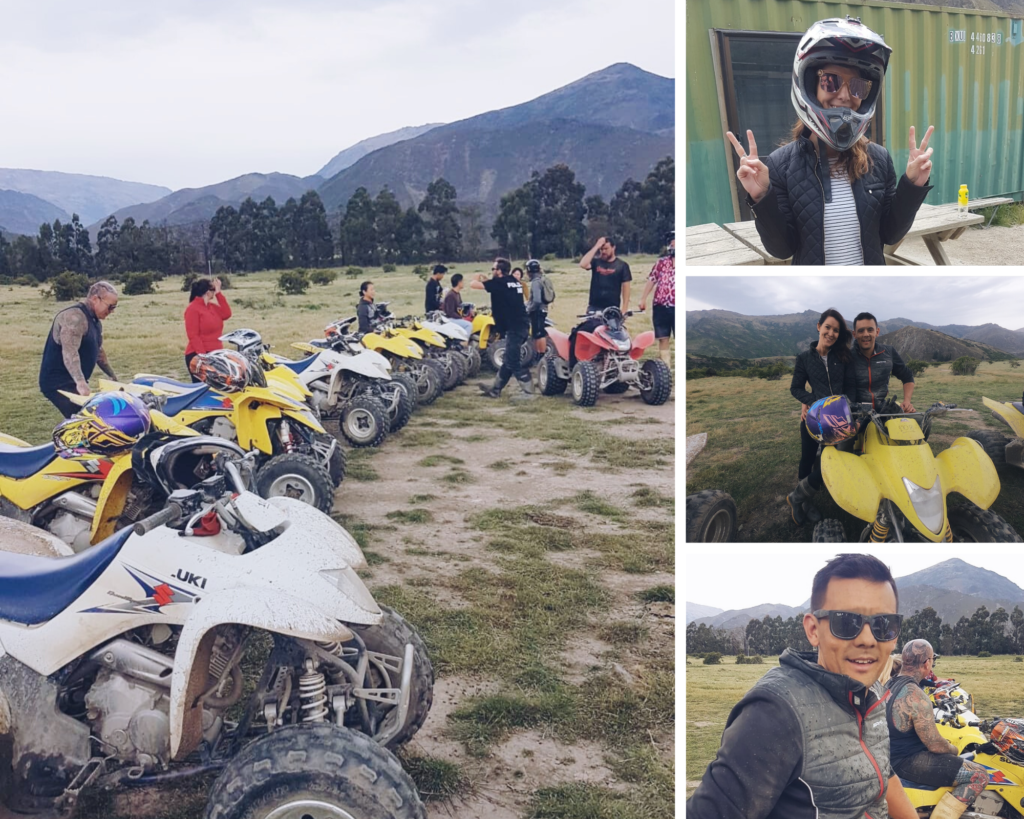 The best pizza in town…
That night we had pizza at Fat Badgers Pizza where they make 20 inch pizzas that are so freaking delicious!! They came recommended by Matt the tour guide from our Quad Bike adventures and we were seriously impressed.
Searching for lupins at Pukaki
The next day we went for a bit of a walk around Queenstown (one of my favourite places in the world) and enjoyed the atmosphere along the foreshore. We sat watching the Hydro Attack Shark ride for a while and soaked up the sun before the bad weather came…
After leaving Queenstown, there was a brief window of sunshine over Lake Pukaki. We made the most of it and went in search of lupins. I was surprised to find that there weren't that many lupins around Lake Pukaki. Only small bunches here and there. But of course I photographed the ones I did find to death.
There was also a wicked rainbow perched right over the aqua blue water as we were driving around to the Mt Cook side of Lake Pukaki.
That pesky Mt Cook…
We then headed for Mt Cook where we stayed for two nights at Glentanner Holiday Park. I was planning to do some hikes to Tasman Lake and Hooker Lake. Unfortunately the weather gods weren't playing along and we got rained in for two days. My 5th trip to NZ and I have only seen Mt Cook twice!
Luckily we were staying at a great camp site that had a really good kitchen and a fire place. It was quite large with a huge seating and lounge area and the fire crackled all day and night. The weather had turned very cold by this stage so sitting by the fire was lovely.
To pass the time we played lots of Uno which I am happy to say I am the champion of! Sorry babe! LOL. Half the fun was watching the boyf get cranky when he had to pick up 16 cards at a time. He is very competitive so I was enjoying his frustration immensly! He did get me back on a few occasions though which got me a bit fired up also!
Luckily I remembered to bring my USB stick full of movies! We set up a little theatre system in the back of our van with my laptop and bluetooth wifi speaker. Lying in bed watching movies while the rain fell on the roof snuggled under the doona was so relaxing!
After two days of rain we decided to move on. We drove to Lake Tekapo because that's where the mother load of lupins are generally found. The whole reason for this trip was to see the lupins so the next day we made a bee line there. On the way to Lake Tekapo we found some wild lupins in a paddock with beautiful snow capped mountains behind them. Naturally we had to pull over to take some photos!
Finally we found the lupins…
Little did I realise what was to come! I could not believe my eyes when we came across the bridge towards the Church of the Good Shephard and saw millions of lupin flowers bordering the lake. It was such an incredible sight and something that I really wasn't expecting. The flowers went all the way out into the water.
The colourful flowers against the white snow capped mountains and aqua blue water was spectacular to see. We drove right down to where the lupins were and started exploring. Thankfully the skies had cleared by that stage too!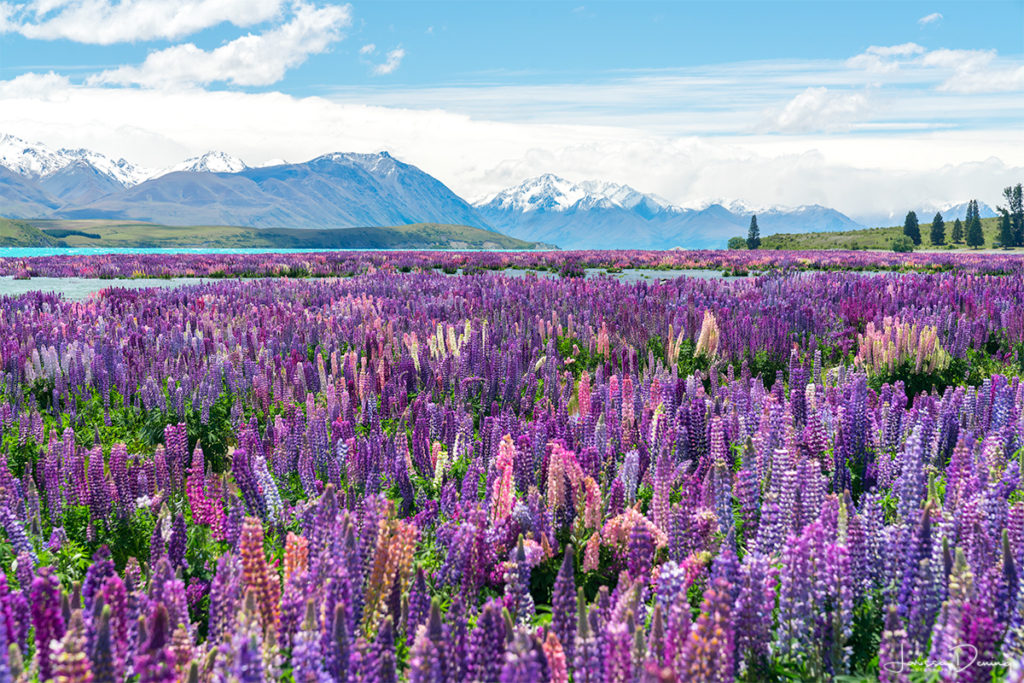 The lupins went for miles. I wanted to get all the way out to the last bunch of them which meant walking through ice cold glacial water. It took some courage. Even though the sun was shining it was blowing an ice cold wind and was still freezing cold! I finally took my shoes off and waded through the knee deep water hating life until I reach the first patch of lupins. The water felt warm after being in the deeper water. I continued to walk in just amazement at how beautiful this scene actually was.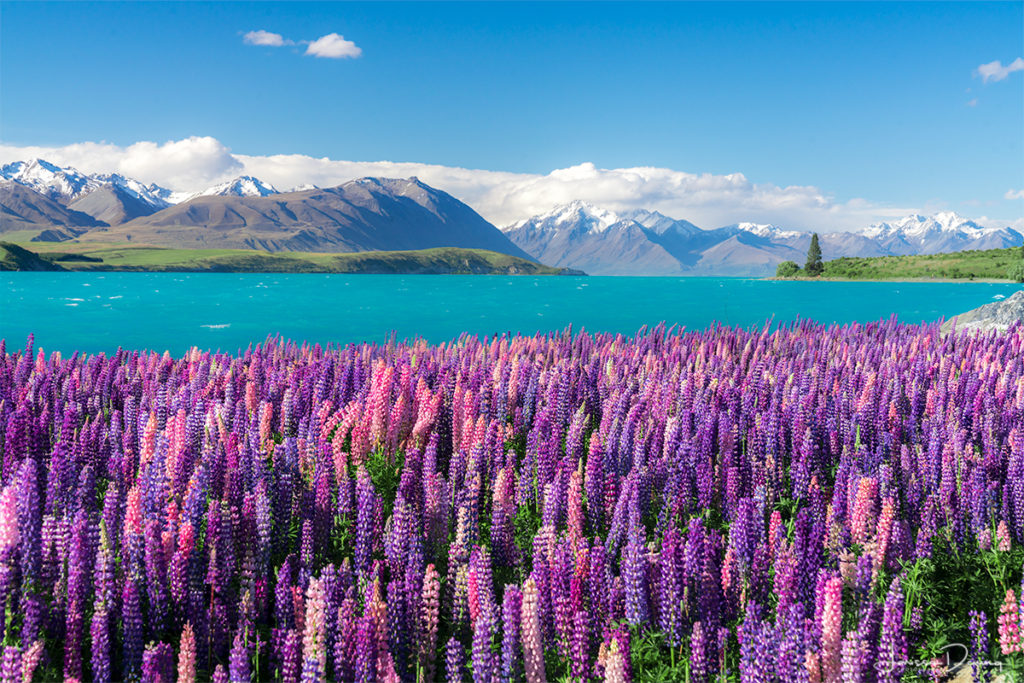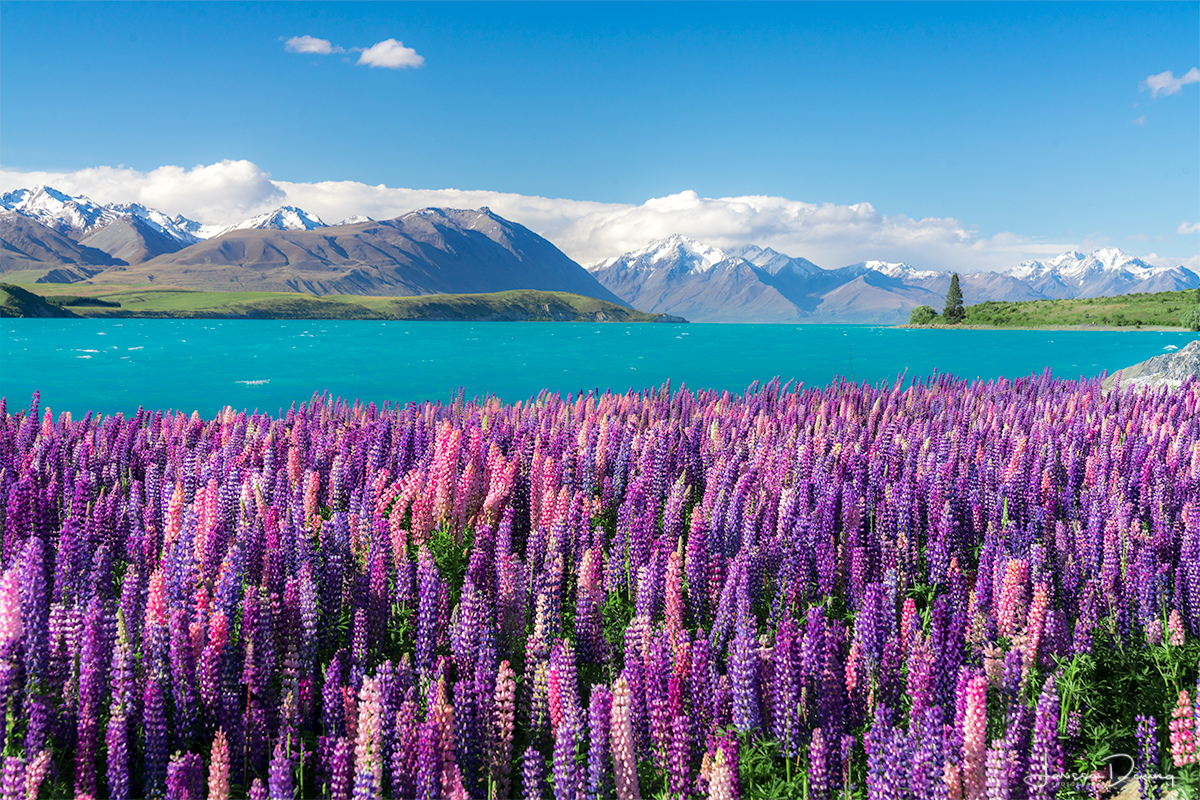 I spent quite a bit of time out here taking it all in. When I felt like I had taken more than enough photos I walked back to the van and we went for a drive to see what else we could find. We stopped over the other side of the lake opened up the back of the van and made some lunch while admiring the view. It really was a perfect day and one that I will never forget! And we topped it off with a sunset at the Church of the Good Shepherd.
Conclusion…
If you are wanting to witness this stunning display, the best time to go is the last week of November and the first two weeks of December. This is when the lupins are in full bloom and at their peak. Of course you can still see them all the way into January but they won't be as vibrant!
The best place to see them is Lake Tekapo. They spread out all the way down to Queenstown and out towards Milford Sound.
Even though it is Summer in New Zealand at that time of year it can still get quite cold. Taking warm clothes is advisable.
I am so happy that I got to tick this off my bucket list. It truly was all that I had hoped for. Have you been to see the lupins in New Zealand? If so, let me know what your experience was like by leaving a comment below. I would love to hear your thoughts.
Here is a little video of some of what we saw!