Have you always wanted to explore Lamington National Park but have been a bit worried about getting lost? It's such a gigantic rainforest and one that I find truly stunning. But it is definitely not signed very well at all. The map that you receive from the information desk is not very helpful either. After having explored Lamington National Park on several occasions I have finally learnt my way around. So let me show you how to find the best waterfalls in Lamington National Park! Check out my video at the end!
How to get there:
If you put O'Reilly's Rainforest Retreat into your GPS you will end up in the right place. Otherwise if you are coming from Brisbane, head towards Canungra along the Mount Lindsay Highway which is about an hours drive. Then take Lamington National Park Road to O'Reilly's. While it's only a 20km drive from the bottom of the mountain, its quite windy and will take about 45 minutes. If you are coming from the Gold Coast head toward Canugra also.
Once you arrive..
Once you arrive at O'Reilly's Rainforest Retreat there is quite a large car park where you can park your car. There are toilets nearby and a cafe if you are feeling peckish or want to stock up on some snacks for your hike. There are also lots of colourful birds (Crimson Rosella and King Parrots) that are very tame and get fed on a regular basis so don't be alarmed at all the birds flying around. They are super cute!
Once you have been to the toilet and stocked up on snacks it's time to head into the rainforest. Walk up hill towards the left and find the footpath that goes past the information kiosk. Keep heading up the hill along the bitumen. You will walk underneath a big sign that says Lamington National Park.
Elabana Falls, the prettiest of them all…
The first and easiest waterfall to find is Elabana. This one is the prettiest too in my opinion. If you don't really feel like an all day walk you can get to this one in about 1.5 hours. The first 700 meters of the Border Track is bitumen. Stay on the bitumen! Don't take the West Canungra Track. At the end of the bitumen the track becomes dirt. Follow this track, which is still the Border track for another 1km until you come to a fork. At the fork head down to Picnic Rock as should be written on the sign. This is the Elabana Falls Track and is another 1.7km down hill walk to Picnic Rock. Once at Picnic Rock you can stop for some lunch then skip across the creek and keep heading to Elabana Falls. There will be two left turns with signs to Elabana Falls.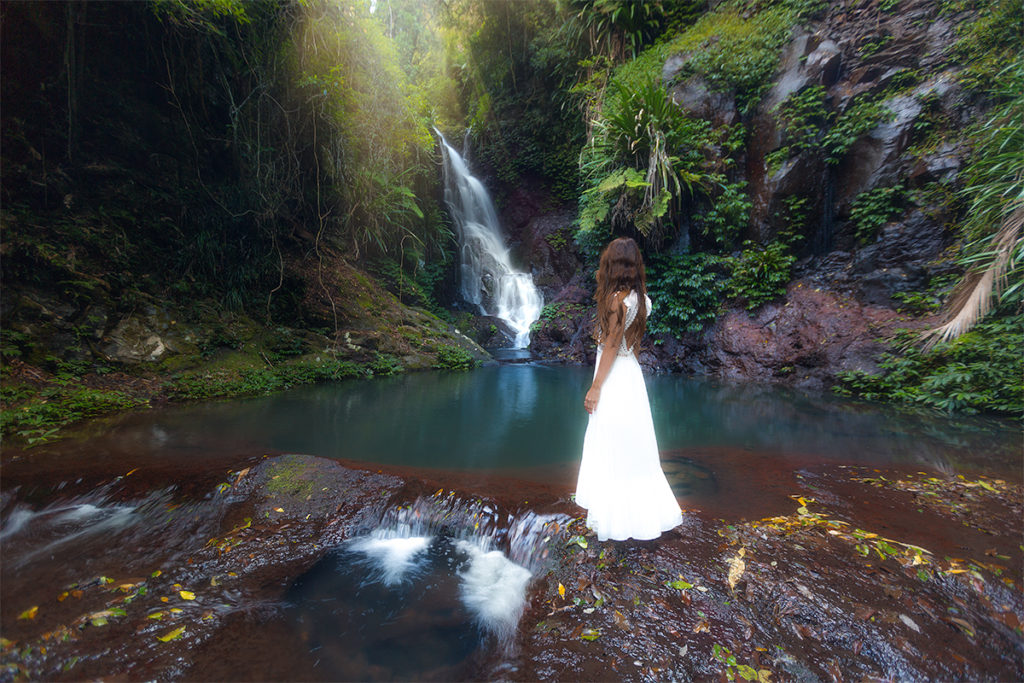 Once you reach Elabana falls you will have to scramble across some very large boulders. But it's not too hard and quite fun. You will end up at the bottom of the falls and what a pretty sight it is. You can also climb up the rocks on the right hand side to get up onto the next tier of the falls. This one is lovely to see in the afternoon when the light is soft.
The Toolona Creek Track
After enjoying the beautiful Elabana Falls, head back up the track from where you previously came. Back at the sign walk straight ahead and you will be on your way to Chalahn Falls. The Toolona Creek Track is home to some of the lushests rainforests and the most stunning waterfalls in the park. The goal is to reach Chalahn Falls, a spectacular waterfall especially after decent rainfall. If it has been dry for quite some time then this waterfall won't be as pretty but it's still a great walk. Triple Falls is the first you will come upon (on your left) and it's here that you will make your first of two creek crossing's on the way to Chalahn. The next is Dwandarra Falls as pictured below. A pretty little waterfall surround by green mossy rocks.
The track then winds it's way through rainforest and past a number of small falls and scenic cascades.
Gwongurai Falls
The next stunning waterfall (probably a 40 minute walk after crossing the creek) is Gwongurai Falls. A short track of 50 metres forks off the main track to the falls. This is one of my favourites in Lamington National Park. You can view it from up top or scamble down the bank and along the creek to view it up close.
Chalahn Falls
From Gwongurai Falls the next creek crossing is a couple of hundred metres further along the track. After you cross the creek it's about 15-20 minutes to Chalahn. This one is another picturesque waterfall but it can run dry if there has been no recent rainfall. It's best to explore Lamington National Park after there has been a bit of rain if you are wanting to see the falls in all there glory.
Beyond Chalahn….
Once you have reached Chalahn Falls and enjoyed the splendour of it you can continue on to see other falls along the Toolona Creek Circuit as this is a loop track. There is another beautiful waterfall along this track – Toolona Falls. This waterfall is about 15 minutes on from Chalahn Falls. From Chalahn Falls it's about another 10km back to the O'Reillys car park or you can back track all the way back the way you came which is about 7 kms.
Notes:
If you are wanting to explore Lamington National Park in the warmer months of the year be prepared to be attacked by leeches. If it has been raining they love coming out and finding suitable hosts to suck blood out of! Wearing long pants and sleeves can help prevent getting bitten and also natural bug sprays like Greenerways Organic Bug Spray. I have personally tried this product and love it and it's good for the environment and your body too. Not nasty chemicals and it keeps the leeches off you!
Final Notes:
The Toolona Circuit in total is 17.4km and takes about 6.5 hours if you aren't stopping to take photos. From O'Reillys car park to Chalahn is about 7km and takes about 3 hours one way. It's about 1.5 hours to Elabana Falls one way.
Lamington National Park is one of the prettiest rainforests in all of Australia and we are so lucky to have it right on our doorstep here in South East Queensland. If you would like to stay for a weekend so you have more time to explore this amazing place here is the link to O'Reillys Rainforest Retreat:
Have you explored Lamington National Park before? What were your thoughts on it? I would love to know so leave a comment below! 🙂