I am a huge fan of road trips and when I visited Tropical North Queensland last year I was super excited for a road trip from Cairns to Cape Tribulation. I had never been passed Port Douglas and the thought of exploring a new part of Australia was very exciting. Especially when it includes the worlds oldest rainforest – The Daintree. So let me show you how to Road Trip Cairns to Cape Trib!
Cairns
Starting from Cairns there are a few things that you want to check out before heading off on your road trip. The Cairns lagoon is a must. This giant pool right on the harbour is a great place to escape the humidity that will slap you in the face as soon as you arrive. Check out my video at the end!
Cairns is a great base for heading out to the Great Barrier Reef for the day or to the amazingly beautiful Fitzroy Island. You can also head up into the hinterland and do the Kuranda Train and Sky Rail experience. The Skyrail is a 7.5 km scenic cableway running above the Barron Gorge National Park and is a fun little adventure.
Palm Cove
Once you have left Cairns and start to head North, make sure to stop in at Palm Cove on the way. This is my favourite place to stay in Tropical North Queensland. It has a very chilled and relaxed vibe, there are loads of awesome palm trees and there is good food here. Lots of nice resorts and a netted off area to swim in the beach.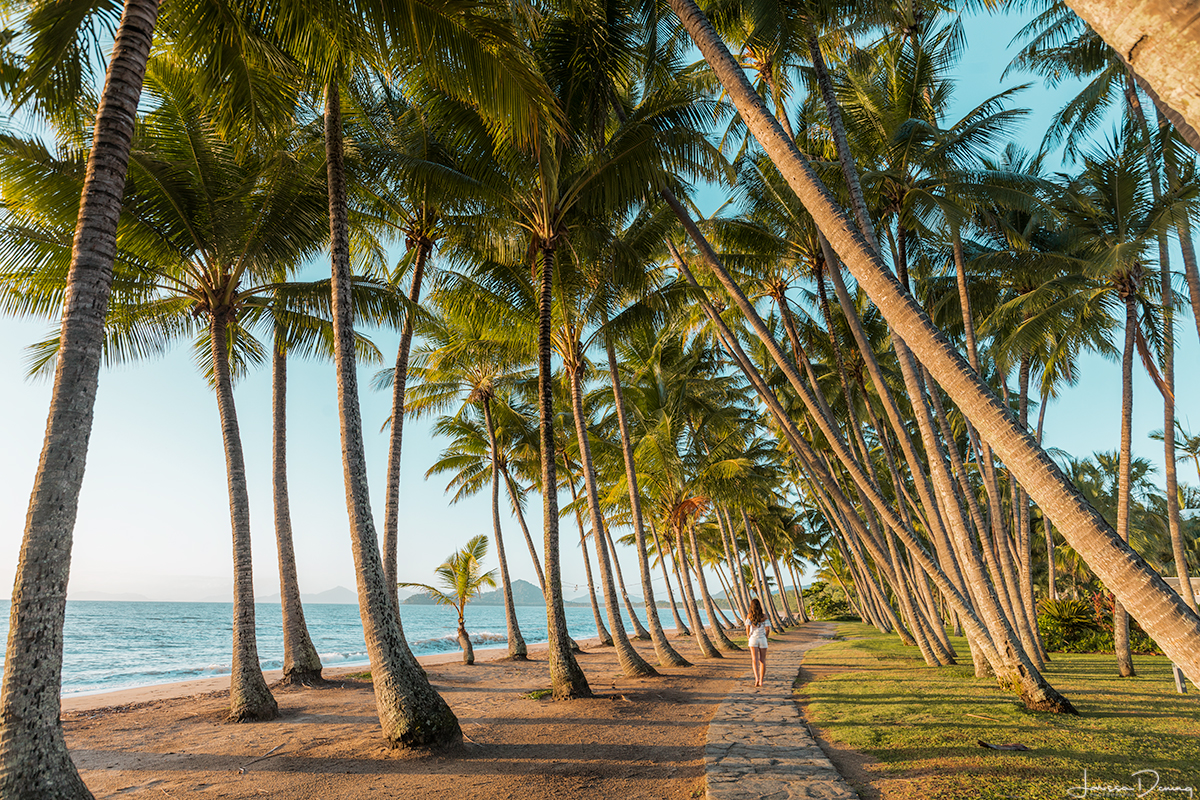 Port Douglas
The drive from Cairns to Port Douglas is one of the prettiest in Australia. Driving along the coast line with rainforest one side and looking out over aqua blue water the other side is a pretty sweet view. Port Douglas itself is a groovy little town with one huge beach – four mile beach and a gorgeous harbour. There is plenty of good coffee and food here. I highly recommend Sparrow Coffee to get your caffeine fix, breakfast at The Little Larder in Macrossan Street (the mushroom were to die for ?), and lunch at The Courthouse (the vegan nourish bowl is da bomb!). Sunsets at Rex Smeal Park are the best way to end the day!
Mossman Gorge
Mossman Gorge would have to be one of my favourite fresh water swimming holes ever. Situated in lush rainforest just outside of Port Douglas I could spend hours exploring this place. Once you arrive at the information centre you catch a bus into the Gorge and from there you are able to explore and swim to your hearts content. There is no risk of being eaten by a crocodile here only mosquitoes!
Daintree Rainforest
Ok, Im going to have to be quite honest here. I have always wanted to see the Daintree Rainforest ever since I was little. I mean, it is is the oldest continuously surviving tropical rainforest in the world, thought to be 165 million years old. But….I was actually disappointed. It wasn't as tropical and lush as I though it was going to be. I dunno! Maybe I missed something. I mean don't get me wrong it was still beautiful, I just think my expectations may have been to high. I actually preferred Mossman Gorge. ? But it's definitely a must see and you have to drive through it on the way to Cape Tribulation anyway so it's a win-win!
Cow Bay
Cow Bay was my favourite beach in the Cape Tribulation area. The sand was clean and white and there was an awesome swing hang from a humungous palm tree. It's a great spot to stop and have lunch and soak up the quiet vibes of this area. Not a lot of people venture up this far which is nice considering how busy Cairns and Port Douglas are.
Cape Tribulation
And finally…. Cape Tribulation. Well, Cape Tribulation actually includes Cow Bay and is a coastal area with Daintree National Park but there is also Cape Tribulation Beach which is basically as far as you can go before it turns into dirt road and then you are really in outback Queensland. There is a little walk that you can do to the right of the beach that takes you to a lookout over looking the bay. On a clear day Cape Tribulation is absolutely stunning and well worth the road trip.
In total from Cairns it's about a 3 hour trip one way, so quite easy to do in a day. I like to do it from Port Douglas so that I have more time to spend exploring. From Port Douglas it's about a 2 hour drive one way.
NOTE: Please don't swim in any of the beaches that I have mentioned in this blog. There are crocodiles in the water that will eat you! I really shouldn't have been walking as close to the water as I was in the photo above. It wasn't until later that I was talking to a local who told me how prevalent the crocodiles really up are that way!
So that's my wrap up of a Cairns to Cape Tribulation Road Trip. I hope you enjoyed it. If there are any places that I missed or if you have done this trip yourself, I would love to know so leave a comment below! ?