I'm taking a slight detour from my european vacation blogs and writing about the fun time I had at Daydream Island a few weeks back. I was invited to be a guest of the resort for the reef island instameet that was being held on the Sunday of the Anzac Day long weekend. I had never been to Daydream Island before but knowing that it was part of the Whitsunday Islands I was squealing with excitement when the email came through! Let me show you around this gorgeous little island!
Upon arriving at Hamilton Island which was about an hour and a half flight from Brisbane, we collected our bags and gave then to the young guy that would put them on the boat that we would take over to Daydream Island. We had about an hour until our boat arrived so we walked down to the Marina and had some lunch. Once on the boat it was about a 40 minute ride over to Daydream Island. It was a stunning day and as always I sat at the back of the boat up the top so I could take in all the glorious views.
I would highly recommend flying directly to Hamilton Island rather than to Whitsundays airport like we did last time we were at the Whitsundays which you can read about here and here. It is just so much more convenient and saves you so much time and it actually works out to be about the same cost if not cheaper considering you have to pay for the bus to the Port of Airlie and then the boat to which ever island you are going to if you fly into Whitsundays airport.
Once we arrived at Daydream Island we were greeted with shell necklaces and a fruit tingle cocktail and given some general advice about the island and everything there is to do on it. Check in at the desk was quick and easy and the staff were extremely friendly and helpful. Right away I got the feeling that it was going to be a good weekend!
After checking out our room and the view which was magical we headed off to explore the island and everything there is to do there. You can walk around the island in about 10 minutes so we walked to the end via the foot path (you can also get a golf buggy ride up the end if you are feeling lazy) and then walked back via the rainforest track which gives you gorgeous views to the west of the island overlooking Sunset Beach.
After our walk we had a bit of a rest back in our room and mingled with the widlife that would come and sit on our balcony. I had a pet cockatoo called Harry when I was a child so I absolutely love them. They are the sweetest birds and I was giving this little fella lots of attention which he was lapping up! You do have to be careful not to leave your doors open when you leave your room though as they do tend to come inside and help themselves to anything they can get there little beeks on!
After a rest we wandered down the other end of the island again and had a bit of a swim in one of the pools before sunset then sat at Sunset beach and enjoyed the magic that unfolded before us!
Down this end of the island movies are shown every night on the big screen that you can see in the picture above. Chairs and lounges are set up in front of the screen so that you can sit back and relax and enjoy the outdoor cinema. It's such a fun thing to do and I was bummed I couldn't watch Ice Age 3 because I had to be a grown up and go to dinner and meet all the other Instagrammers that were all there for the Reef Island Instameet, but that was fun too.
We had dinner with everyone at Mermaids Restaurant which was delicious and a few cocktails in the main lounge afterwards.
The next morning I was up early for sunrise and it was so lovely to walk out onto the balcony to see what the sky was doing and having the ocean right there. I walked about 5 minutes down to the end of the beach where the 3 mermaid statues live to watch a beautiful sunrise with Scotty and Cherie (two of the other instagrammers I had met the night before).
After watching a beautiful sunrise it was off to have a buffet breakfast at the Lagoon Bar which was a delicious. Breakfast comes complimentary with your stay at Daydream Island.
Then it was off to the Living Reef to feed the baby sharks. The Living Reef is one of the world's largest man-made living coral reef lagoons and features more than 140 species of marine fish and 83 species of coral and has 7 million litres of sea water pumped through it every 24 hours
. It is also home to the huge lemon shark called Bruce!
After the baby shark feeding we went over to the other side of the Living Reef and fed the stingrays which was loads of fun. They slide up onto the edge and you stick you hand out flat underneath with a prawn on it and the stingrays suck it off your hand. You can also pat them and they feel squishy like jelly!
Then we went over the other side of the living reef for the famous Stingray splash show which is where Marine Biologists guide you through a unique hands-on educational experience and the thrill of handfeeding various baby stingrays while they swim around your feet. You can also hold a sea star and a sea cucumber and search for Nemo amongst the coral.
After that I watched the shark feeding show back where I fed the stingrays which was really fascinating and entertaining. You can see big Bruce in the picture below.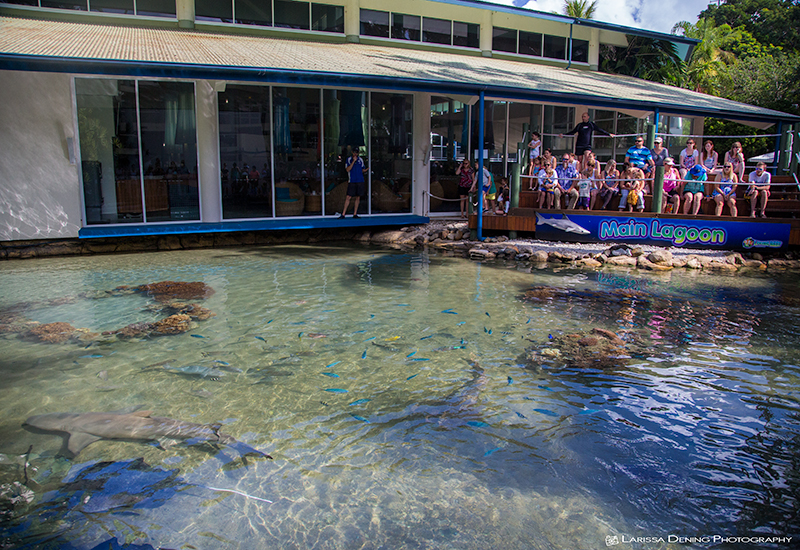 After all that excitement we had some free time until 1pm when it was time to go snorkelling at Lovers Cove amongst the tropical fish which was so much fun. You literally walk into the water no more than a metre and there are tropical fish swimming around you. You can buy some fish food pellets from the recreational area and watch them swarm all around you which is a pretty cool experience.
Then it was time to relax in the sun in one of the hammocks that are scattered around the island.
After some relaxation, it was time to meet everyone back at Sunset Beach to watch and photograph the sunset. There are so many places to explore on this island and the sunsets cast the perfect magical colours over the entire island.
Then it was drinks with all the other Instagrammers to celebrate what a fantastic weekend we had all had. Drinks went on for a while until we realised we were all starving and headed over to The Fish Bowl for dinner. They do great fish and chips here in this kitch restaurant with gigantic Nemos and pirates hanging all around the place. After dinner we walked back to our rooms to hit the hay as we were all exhausted after two massive days of partying, photographing and exploring this magical island.
The next morning I enjoyed a sleep in and watching the gorgeous views out my window.
I also went for an early morning swim in the gorgeous pool near Mermaids restaurant
And found some cute little wallabies that are scattered all over this beautiful island.
Then it was time to pack and head back to Hamilton Island to catch our flight back to Brisbane. I had such an awesome time on this fun filled island. It really is such great place to take your family and especially if you have kids, they will absolutely love it. There is so much to see and do and a weekend really wasn't long enough. I wish I could have stayed for a week!
Have you been to Daydream Island before? If so leave a comment below and let me know your thoughts. I would love to know!
Larissa was a guest of Daydream Island but of course all her opinions are her own.
If you would like to stay at this magical place click on the link below:
Daydream Island
Phone: +61 7 3259 2350