Recently I had the opportunity to visit the Pacific North West corner of America which is renowned for its lush green landscape, towering mountains and majestic waterfalls. Though there are up to 238 waterfalls in Oregon, these are my top 5 Oregon waterfalls that will take your breath away!
1. Proxy Falls
This waterfall is one of the biggest and most impressive that I have seen in a long time. A huge amount of water spills over a black basalt wall that is almost completely covered in rich green moss. This is one of the most photographed waterfalls in Oregon and after seeing it I can understand why.
2. Punchbowl Falls
This waterfall sits at the end of the Eagle Creek trailhead which is a 6km roundtrip. It is a stunning walk through rainforest, following a creek bed before coming out at the end of the trail with lower and upper Punchbowl falls. Its an easy walk but is very crowded as it is very popular.
3. Wahclella Falls
This is one of the must-do easy hikes and so so pretty. Its is a 4km round trip that takes you across a bridge with Munra Falls to your left. As you keep walking you will come to a fork in the trail which is a loop of Wahclella Falls so it doesn't matter which way you go. The falls drop into a huge canyon and has a dark mysterious feel to the place. Its really beautiful and I think it was my favourite of all of them.
4. Metlako Falls
This waterfall is on the Eagle Creek trailhead on the way to Punchbowl Falls and is an easy walk to a viewing point which is some distance away from the falls. The falls drop out of narrow, calm pool, and thunder into an impressive gorge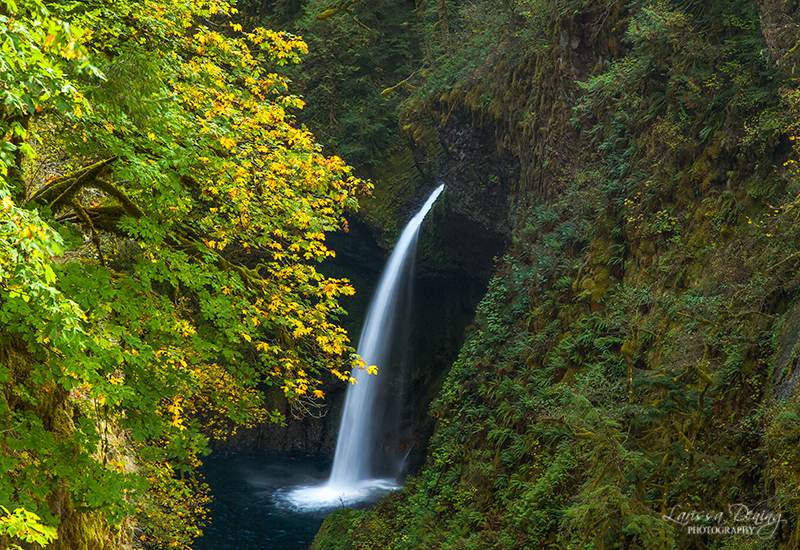 5. Multnomah Falls
You can't come to Oregon with seeing Multnomah Falls. About a 30 minute drive from Portland, it is and elegant two tiered waterfall. A 5 minute walk from the carpark, it is breathtaking in all seasons and even completely freezes in winter.
Even though there are so many other beautiful waterfalls in Pacific Northwest, these 5 were the most memorable and breathtaking for me. I can't wait to go back and explore the other 233 waterfalls in the area!
Have you been to any of these waterfalls or are there any others that you think are just as beautiful? Let me know in the comments below! 🙂