Its freebie time. I was in a creative mood this week and decided I wanted some fun and fresh screensavers and wallpapers for my iMac, iPad and iPhone so I gots to creating 3 different designs in all three sizes. And you know I love a good motivational quote so you can read my words of wisdom every time you look at your device!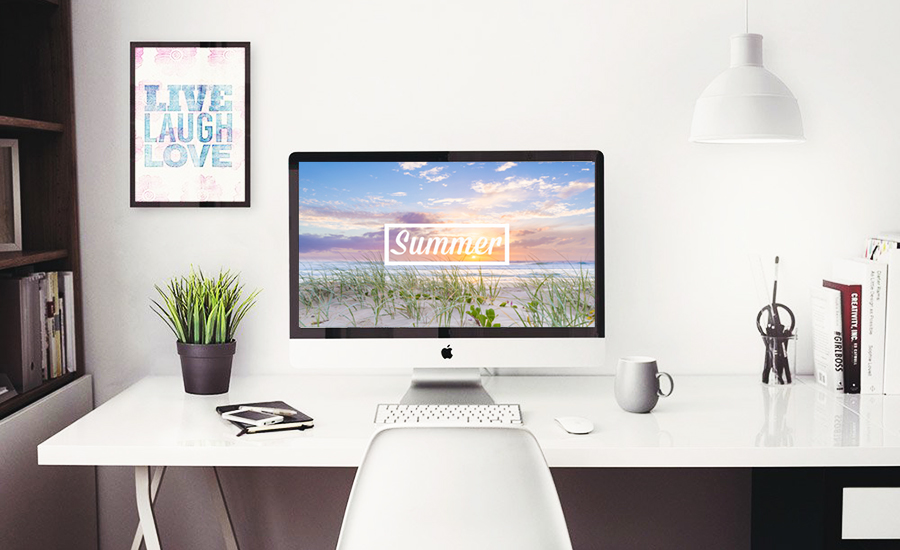 Summer
The first design is all about summer. I had such an awesome time hanging out at the beach over Christmas that I wanted to be reminded of it every time I looked at my phone. This was my favourite photo that I captured from a beach that I used to swim at all the time when I was growing up in Ballina, NSW. This particular morning was so calm and serene and there was a young couple that only looked about 17 that were sitting just up from me on the beach watching the sunrise and then walked the length of the beach hand in hand, laughing and smiling at each other. It was a really beautiful moment to watch and I was so impressed that this young couple dragged themselves out of bed at the wee hours of the morning to come and enjoy this beautiful sunrise. Hopefully you can feel the love and joy from this image when you look at it too.
Love
The second design was a photo taken at my favourite place in the whole of Australia, Byron Bay. It sums up Byron Bay completely with the aqua blue water, sunshine and a bunch of guys and girls out on their surf boards enjoying this amazing day. The quote is something I believe in strongly. We should all be searching for our passion and once we find it we should do as much of it as possible. A friend sent me this video a few weeks ago and it completely sings to my heart and everything that I believe in: SlowMo Video
Mountains
The last design was an image that I took on our USA/Canada Road trip. We had been driving around central Oregon all day and visited some of the most beautiful waterfalls, saw some incredible fall scenery and as always we completely lost track of time. My plan was to photograph Sparks Lake near Bend for sunset but we were still miles from Bend as the sun was starting make its descent into the abyss of the night. Luckily, as we got closer to Bend we saw these mountains off in the distance, so we pulled over on the side of the road to photograph the sunset from there. I believe these mountains are called the three sisters and I remember the side of the road was just basically volcanic rock as far as the eye could see. It was kind of like being on a different planet. We were the only two around and I think only one car drove passed the whole time we were there so we mucked around while we were waiting to see what the sky was going to do and luck would have it, it turned pink for us! The message on this one is to remind me to appreciate every single moment of your life. Even though we didn't make it to Sparks Lake, we made the most of what we had and it all worked out. I did end up photographing sunrise at Sparks Lake the next morning which was pretty nice too and enjoyed a gigantic stack of pancakes for breakfast afterwards. You can read about that adventure here: A Road Tripping Adventure: Central Oregon
Anyway, enough rambling!! This is how they look on and iPhone:
I have created three sizes in all three designs
iMac version is big enough to fit your iMac or laptop
iPad version is big enough to fit a normal sized iPad and the iPad mini with retina display
iPhone 6 is obviously for the iPhone 6
Instructions:
So, where do you find this bundle of goodies I hear you ask!! Click on the link below which will take you to a dropbox with all the files contained there. Once you have downloaded the files for your devices, save them to your Camera Roll. Open Camera Roll and locate the image that you want to use for the wallpaper/screensaver and click on the button that looks like a square with an arrow coming out the top in the bottom left hand corner of your screen (for iPhone and iPad). Then click on Use as Wallpaper. Presto! You have a new wallpaper/screensaver!
For your iMac or laptop, locate the image in Finder once you have saved it, right click on the image and choose Set Desktop Picture.
I hope you enjoy these designs that I created. My favourite one is Love but who doesn't love love!! Let me know what you think and which one is your favourite by leaving a comment below!