I was recently invited to stay at the Sunshine Coast for a few days thanks to Visit Sunshine Coast as part of The Curated Plate Food Festival that is being held from 5-18th August 2019. I have always loved this part of Australia and visit here regularly usually heading straight to Noosa for the day. This time I stayed in Coolum and experienced some amazing local food and awesome activities that I have never experienced before. There is a really vibrant food scene here on the Sunshine Coast. It was lovely to spend some time in the quieter beach town of Coolum and explore the hinterland of the Sunshine Coast too. So let me show you 9 of the best experiences on the Sunshine Coast!
The Point, Coolum
After a relaxing start to the morning and breakfast with friends I ventured up the highway from Brisbane to Coolum to check into my accommodation at The Point, Coolum. It was a picture perfect, sunny Winter's Day. Once I opened the door to the villa I realised how stunning this place is. I was in Villa 34 which has three bedrooms, over two levels that had the most amazing views of the coast.
The interior was modern, bright and airy with a full kitchen, an ensuite with a huge shower that had windows with a private view out to the coast and the most comfiest king sized bed. I honestly did not want to leave this place. It was literally my dream house! So if you want somewhere amazing to stay on the Sunny Coast, this is it!
After scoping out every inch of this place I turned on the gigantic flat screen tv, found some tunes to play on You Tube and soaked up the sun on the deck with these gorgeous views while I waited for my partner to arrive from work. This would be the perfect place to sit and watch the sun go down with a wine and cheese platter. Of course, me being a photographer, I can't let an opportunity slip by so I headed down to the beach to photograph some colour!
The walk to the beach from The Point, Coolum is about 10 minutes and you can walk right along the coastline all the way to Noosa if you wish!
Sunset at Coolum, The Sunshine Coast
There are loads of places to watch and photograph the sunset in Coolum. You can head down to Coolum Beach or frolic amongst the orange coloured boulders and rocks at First Bay, Point Perry and Point Arkwright. The tide was quite high so a lot of the beautiful mossy rocks were covered with water. We decided to climb up on the side of the cliff to sit and watch the sky turning pink.
It was so nice watching the waves crashing gently against the rocks and watching the sky change colour as the sun dipped below the horizon.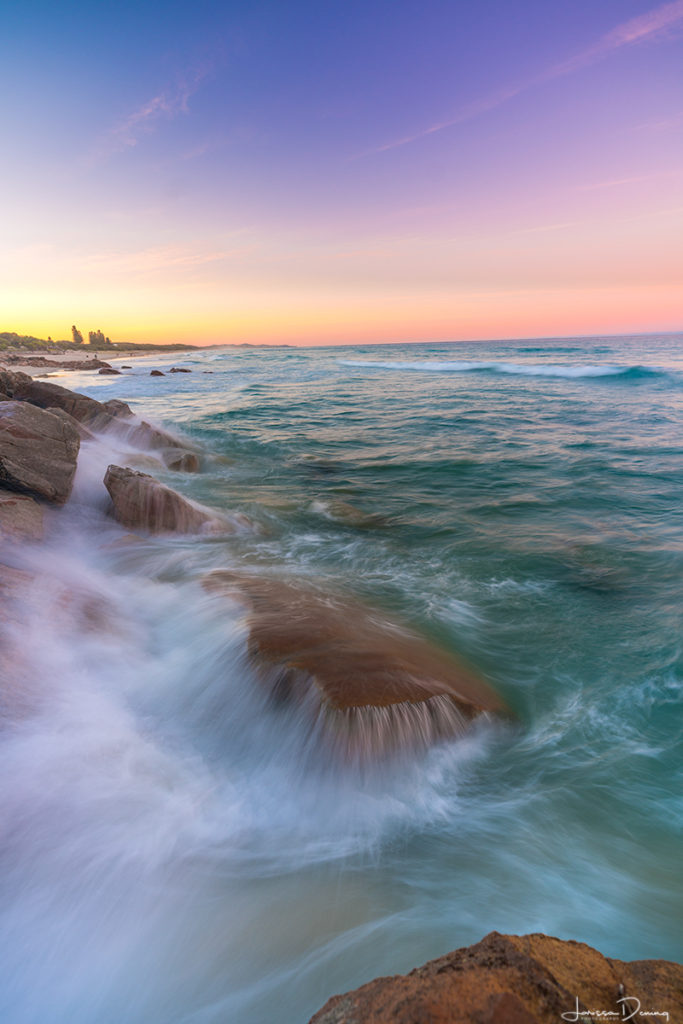 After the sun had set and there were no more colours left in the sky it was time to freshen up back at the accommodation and head off for dinner. Canteen Kitchen and Bar was a recommendation for dinner which is positioned directly across from Coolum beach. They had gas heaters to keep us toasty warm. I had the Pork Belly and my partner had the chicken. Both meals were delicious and I would definitely recommend this place.
Sunrise droning at The Sunshine Coast
The next morning we were up early to catch the sunrise. The morning was crisp and cool so we both rugged up as best we could and went down to the lookout at Point Perry. I put the drone up and flew it around while the sun was rising. Then captured some shots of the coast line after the sun had risen and cast a golden glow over everything.
After an hour or two flying the drone around, nearly losing it over the water and taking pics on my camera my hands were like iceblocks. It was time to find a nice cafe for breakfast and a warm chai latte!
Breakfast at Alley Cat Espresso
In the main part of Coolum you can find a cute little cafe hidden behind a few shops called Alley Cat Espresso. They had a delicious menu that can cater to all needs. Even if you are vegan, they've got you covered. They make real chai lattes too and have plenty of alternative milks if you are dairy intolerant.
Surf Lesson with Coolum Surf School, The Sunshine Coast
Once our bellies were full it was time to head over to the beach and have a surfing lesson. I have never surfed in my life even though I love the beach and have spent a lot of time there. Especially growing up in Northern NSW. But after getting caught in a rip a few years ago I've become afraid of the waves. I was a little bit apprehensive about learning to surf. Also because it was very chilly that morning even though it was another perfectly sunny day.
Kara from Coolum Surf School suited me up in a winter wetsuit. I was immediately warm once I had that on! The water temperature was about 23 degrees too so it was actually quite warm in the ocean thankfully!
All suited up in wetsuits Kara and I went down to the beach to talk about rips, how to spot them and get out of them. Also, how to read the surf and how to actually get up on your surf board. A few practice runs later on the sand it was time to hit the water…
We waited in chest deep water for the perfect wave to catch. Kara spotted it and it was time for me to get on the board. She spun me around counted me down and then it was up to me to stand up. I put into practice how to get up on two feet from what she had told me on the beach. Before I knew it I was up on the board and surfing all the way in to the shore.
Okay, Okay, the waves were pretty small but I was still pretty impressed I got up first go!
Looking at the waves in the above picture I would have been freaking out a bit. But actually being out there in the water with them they didn't look as big up close. Having the surf board was like a bit of protection as it took the brunt of the wave too.
I think I caught about 8 waves that day and only 1 wipe out. Not a bad average for my first attempt and all thanks to Kara's great advice and guidance.
Surfing was so much easier than I expected it to be and I had loads of fun. It's something that I would love to do again. I am considering getting myself a surf board so that I can keep it up. I think I will just stick to the small waves for a while though! Big thanks to Kara who is an Australian Surf Champion and to Coolum Surf School for the opportunity to learn to surf. Kara was an amazing teacher and made me feel completely comfortable in the water. If you would like to experience a surf lesson for yourself The Sunshine Coast Lifestyle Experience – Coolum Beach Village Pass is a great way to experience surfing plus a whole bunch of other local Coolum experiences as part of the Curated Plate destination Series that is being held from 5-18th August 2019. Click here for more information.
Buderim Ginger Factory
After a quick shower and back into some warm clothes it was time to tour the Buderim Ginger Factory. I love Ginger so I was very excited for this experience. I have ginger every day in my juice and drink ginger tea frequently. Its great for pain and to ward of the cold and flu. During the factory tour I learnt how ginger was harvested and processed at the world leading Buderim Ginger facility and I enjoyed some sample plates that will be offered as part of a two course ginger-inspired lunch that will be part of The Curated Plate food festival in August.
After tasting everything from ginger gummy bears to ginger jam it was time to explore the gift shop then a stroll around the beautiful sub-tropical gardens. There is even a train ride for the kids and ginger ice-cream. This place is definitely worth a stop when you are touring around the Sunshine Coast. If you would like to know more about The Ginger Factory – Ginger Journey as part of The Curated Plate food festival click here.
Lunch Time at The Spirit House, Yandina
Just down the road from Buderim Ginger Factory is The Spirit House situated in the beautiful little town of Yandina. This place is amazing. Set amongst a tropical rainforest you feel like you have entered an exotic country when you walk through the gates. The restaurant sits right on the edge of a tranquil pond, with bubbling waterfalls and tinkling wind chimes, the sound of nature – it really is a unique experience.
We took our seats overlooking the pond after walking through the lush gardens. Then the food started to arrive! We started with Moreton Bay Bug on Betal Leaf which was delicious.
Next was the Coconut Soup of Salmon with Thai aromatics and chilli oil! OMG!! This was amazing. I have never tasted anything so delicious in my life!
Next came the Hervey Bay Scallops, Wok Fried Pearl Barley (my second favourite from the day), Watermelon Salad and Sweet Potato Noodle Balls. I was in heaven. This entire meal was dairy and egg free and tasted absolutely amazing. I can see why this place has a three month waiting list. The service is impeccable and the food is to die for!
After finishing lunch we were shown through the area where functions are held which is spectacular and contains a wall with 500 tiny buddha heads and more beautiful tropical gardens.
The Spirit House also has a cooking school where you can learn to make all these amazing meals for yourself. They will also be holding Masterclasses, Demonstrations and talks at The Curated Plate Culinary Festival at Cotton Tree. If you would love to experience this for yourself click here!
Exploring The Glasshouse Mountains
Next stop was exploring The Glasshouse Mountains. The sunshine coast has some of the most scenic and unusual mountains in Australia. Most of them you can climb for fantastic views especially at sunset and sunrise. One of my favourites is Mount Ngungun at sunset which I have climbed a few times. Mount Tibrogagan is another one that I love but am yet to climb.
Please Note: Mt Ngungun is currently closed for repairs of the track and will re-open again in mid August. The re-opening date has been pushed back due heavy rainfall.
Q Camel Dairy
The last stop and one of the coolest experiences I had on my Sunshine Coast visit was to Q Camel Farm. This farm produces organic camel milk and camel milk products. The owner Lauren is so passionate about her beautiful camels that she knows them all by name! I tried the milk which tasted just like cows milk but doesn't contain lactose. The mango yoghurt smoothie was sooooo yum! And the camel milk feta was amazing too!
But the best part of this experience was cuddling the camels. They are like gigantic dogs and love a cuddle. Being an animal lover I couldn't get enough of them. There are even two gorgeous little donkeys that live with the camels to protect the babies from wild dogs.
If you want to try out some of the Camel Milk products and kiss/cuddle a camel, Lauren and her babies will be part of The Curated Plate Destination Series in August. Click here for all the information about Camels and Canapes!
And that concluded my 9 best experiences on the Sunshine Coast. I had the absolute best time. What did you think? Are there experiences or food places that I missed out on? I would love to know so leave a comment below.
Huge thanks to Sara from Visit Sunshine Coast for showing me around. And as always even though this was a sponsored post all opinions are my own!