Following on from A Road Tripping Adventure LA to San Francisco which you can read about here, here, here and here,  the next stop on the itinerary was Portland, Oregon. You may be thinking that's an odd place to visit? Its not a well known city like LA, New York or San Francisco but Oregon is a photographers paradise. The whole state is filled with natural beauty from massive sea stacks all along the coastline to up to 77 waterfalls along the Columbia River Gorge to exquisite Autumn colours amongst the giant maple trees. Oh and a famous snow capped Mountain – Mt Hood.
After flying in from San Francisco we stayed in Portland for two days. Portland is definitely a unique city with lots of quirky people. If you have ever watch an episode of Portlandia you will know what Im talking about. It is famous for Coffee, Beer and strip clubs but there is also a very big hippy and vegan culture. Its is also well known for being one of the most environmentally conscious cities in the world because of its public transportation networks and efficient land-use planning which ticks the box for me being the little greenie that I am! It is home to a large number of micro breweries, micro-distillaries and food carts that contribute to the unofficial slogan "Keep Portland Weird"!
Our accommodation was a brand new townhouse in the back yard of a suburb about 10 minutes from downtown Portland that we found on Airbnb. The reason we chose this place was because it had a washing machine and dryer and it was time to do some washing after a week of travelling. We also hired another car which made it was easy for us to get around so we didn't need to stay in the city. Portland is a very spread out city divided into areas like North East, South West etc. We were staying in South East and downtown Portland is South West. That afternoon we headed off to check out some waterfalls and we only got as far as Multnomah Falls before it got dark.
The next day we wanted to spend the day exploring Portland. We started off with a visit to the Portland Japanese Gardens because there is a famous Japanese maple tree inside the gardens that I have wanted to photograph for so long and I was hoping because it was Autumn that it had turned an amazing shade of red but no such luck. Due to the extended summer that the West Coast was having it was still quite green and only just starting to turn. Unfortunately it was a really bright day too which is uncommon for Portland so it was quite hard to capture a good shot of the tree. Oh well, just means I will have to go back and try again. Oh and just a heads up if you are planning to take a tripod into the gardens for photography you have to pay $5. The gardens were quite beautiful and occupies a large area of the city.
Afterwards we headed into the downtown area and tried out VooDoo Doughnuts which is a famous doughnut shop with the catchphrase – The Magic is in the Hole! It is known for its unusual doughnuts, eclectic decor and iconic pink boxes featuring illustrations of voodoo priests. We shared a cream filled doughnut which was so sweet!
Then we did a big walk around and ended up at Powells Book shop where I could have stayed all day. I absolutely love books and bookstores. Powells Bookstore is known to be the largest independent new and used bookstore in the world.
After a huge walk around the city I was starving so we went to Kenny & Zukes Delicatessen for a Reuben sandwich which hit the spot so well. I love how you get a pickle with your meal wherever you are in America. I don't know about you but I love pickles!
That afternoon it was looking like it was going to be a pretty awesome sunset so we decided to head out to Canon Beach which is famous for big seastacks along the beach. Its about an hour and a half drive from Portland so off we headed. The sky was looking amazing the whole way out there so I was getting really excited because we hadn't had much luck weather wise so far on this trip.
The little town of Canon Beach is just gorgeous and I could imagine if I lived in Oregon this would be where you would go for summer holidays. Lots of beautiful restaurants, cafes, art galleries right on the beach. We drove up towards the beach and noticed the sea stacks were a couple of kilometres down from us so we got back in the car and drove about 10 minutes further down the road and I kid you not by the time we got there this massive thick cloud of fog had rolled in. We decided to walk out to the seastacks anyway hoping it would pass but it just kept getting thicker and thicker.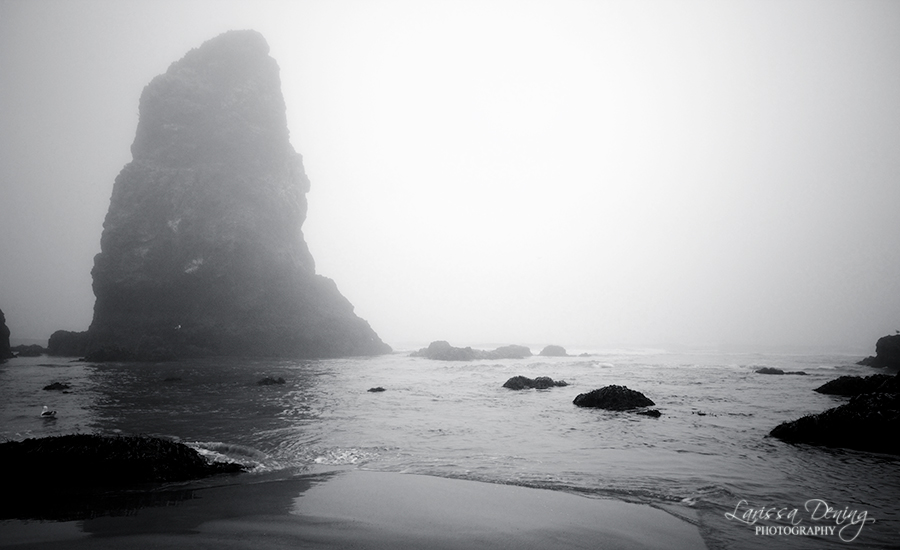 By this stage i was pretty annoyed. I remembered when we were in San Francisco the higher we went the more you could see because the fog tends to hang around low on the water. So we quickly jumped back in the car after finding our way back to the carpark through a thick white haze and drove up to Ecola Point lookout but by the time we got there the sunset was pretty much over.
After sunset it was a long drive back to Portland. Portland has a huge food truck scene and night life scene so we stop at a bunch of food trucks near where we were staying for dinner. We had pulled pork over fries and peanut butter and jelly over fries. It was a fun idea at the time but not the next day! The next day we left Portland and headed for Bend, Oregon. I really like Portland and thought it was a fun city with loads of eclectic people to keep it colourful and interesting. A great little stop on our road trip!
Have you ever been to Portland, Oregon? What did you think of it?
P.S. You can read the next part of our adventure here: