I have to confess, Indonesia was never really on my bucket list. I always had the impression that the only thing to see in Indonesia was Bali and it was just a holiday destination for Aussie bogans. Sorry, but it's the truth! When I received an invitation from the Ministry of Tourism, Indonesia to visit their country I was sceptical. However, once I saw the itinerary and googled Raja Ampat – I was sold!
After 10 days exploring Yogyakarta, Raja Ampat and Bali my eyes were opened to an amazingly beautiful country filled with stunning landscapes, the happiest, friendliest people and some damn fine food.
There is so much more to Indonesia than just Bali. Come with me as I show you around this amazing country with the first stop: Exploring Yogyakarta!
Indonesia is the largest archipelago in the world with over 17,000 islands of which 8,000 are inhabited and over 300 languages are spoken. Indonesia is the world's 4th most populous country with 255 million people and counting. It has a rich and diverse culture with numerous tribes living in peace and harmony.
Jakarta
After arriving in Jakarta from Australia I was immediately smacked in the face with a blanket of humidity. After just coming out of Winter in Australia it was a nice feeling.
Jakarta is the capital of Indoneisa and is a bustling city that never sleeps. The traffic is crazy and there are people everywhere. Luckily I was quickly wisked away into a car and taken to the hotel where I met the other 39 people from Asia Pacific that I would be traveling with for the next 10 days.
The next morning we had an early flight out of Jakarta to Yogyakarta.
Yogyakarta
Yogyakarta (pronounced "Jogjakarta" and called Yogya or Jogja for short) is a city on the Indonesian Island of Java known for its traditional arts and cultural heritage and home to the island's monstrous volcanoes. Fiercely independent and protective of its customs, and still headed by its sultan, whose kraton remains the hub of traditional life, contemporary Yogya is nevertheless a huge urban centre. The entire metropolitan area is home to over 3.3 million people.
Besides well-known historical and cultural landmarks such as the many temples left behind by ancient civilizations, Yogyakarta is a gold mine of astonishing natural landscapes that reminds you of Mother Nature's greatness.
Rice Paddy Processing
First stop after arriving in Yogyakarta was to a rice field in Desa Pentingsari to learn about the main staple of Indonesia – Rice. Rice is central to the Indonesian diet and is an important part of the national economy. Indonesia is the 3rd largest producer of rice in the world. We learnt how to plant rice which is done individually by hand. This is quite incredible as you drive around Indonesia and see all the beautifully planted rice paddy's.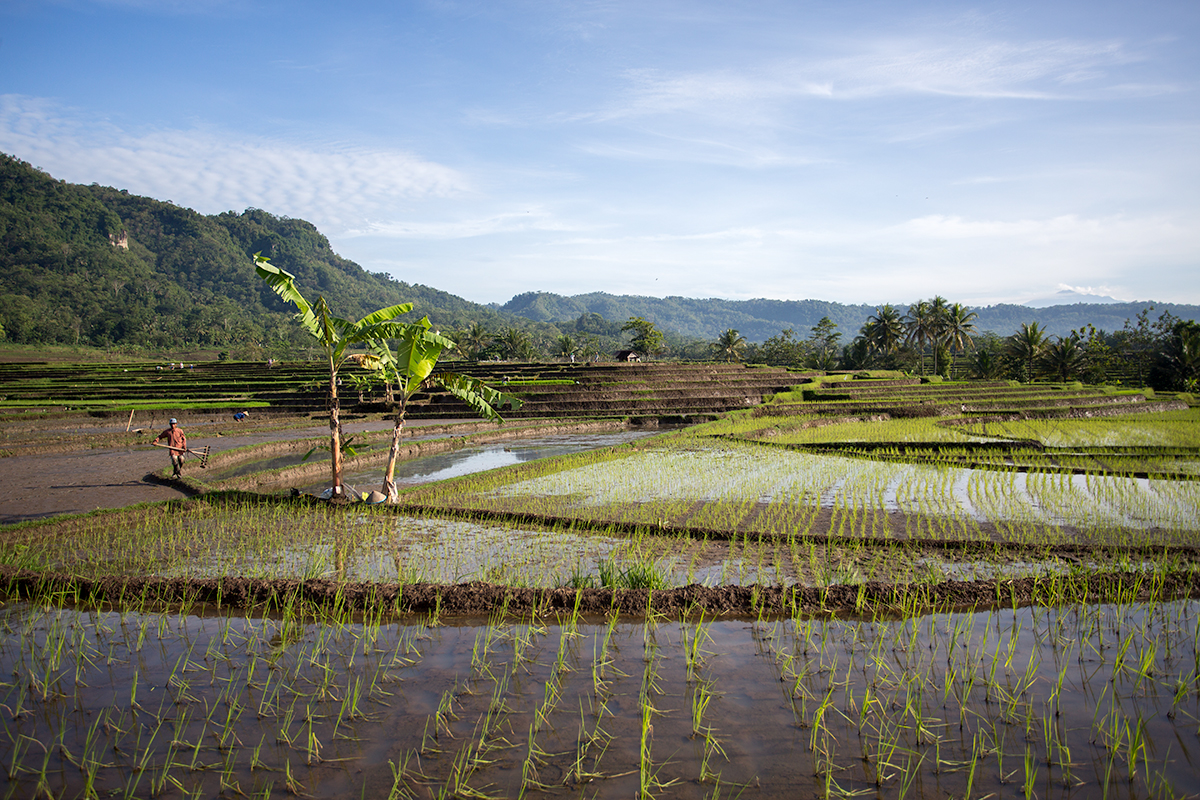 Lava Tour Merapi
After a traditional tasting of the local foods we all jumped in open top jeeps and headed to see Mount Merapi. Mount Merapi, is an active stratovolcano located on the border between Central Java and Yogyakarta, Indonesia. It is the most active volcano in Indonesia and has erupted regularly since 1548. The last time it erupted was in 2010. Over 350,000 people had to be evacuated from their homes.
Unfortunately it started pouring down with rain as we got closer to the volcano. Because it was the wet season in Indonesia, we got to experience monsoonal rain which is crazy, heavy rain.
Because we couldn't really see the volcano the jeep drivers decided to take us for a drive through the flooded rivers, just for fun! Haha. It was awesome fun and a little scary at the same time. Three of the jeeps got stuck including ours, everyone pitched in to help pull us out though! Luckily our driver was super sweet and was always concerned for our safety! Here is a little video of the event, if watching on an iPhone turn your phone sideways. Sorry I filmed it on my iPhone in portrait mode ?
After dinner it was back to our amazing hotel for some rest before another day exploring this unique part of Indonesia.
Borobudur
Borobudur is a 9th-century Mahayana Buddhist temple in Magelang, Central Java, Indonesia. There is no definite written record of who built Borobudur or why it was built. It was likely founded as a religious site in the 8th century at the peak of the Sailendra dynasty in central Java. The construction is thought to have taken a period of 75 years, and completed in about 825 CE. Borobudur lay abandoned and hidden for centuries under layers of volcanic ash and thick jungle growth. It was not until 1885 that the complex was unearthed in its magnificent entirety.
This is a very popular place for watching the sunrise and after witnessing this I can really appreciate why. Walking around this temple gives you a great sense of peace. Especially with fog rolling around it and beautiful colours from the sunrise. This is a definite must see if you are in Indonesia.
Desa Bahasa
After breakfast we took an Andong ride (horse and cart) to the village of Desa Bahasa to learn how the locals live and do some pottery making and learn to speak the local language.
Puncak Suroloyo
The next morning, four of us woke up at 2:45am to get a private car to Puncak Suroloyo lookout for sunrise. It was a beautiful start to the day as we climbed the steps to the lookout. Fog rolled in across the valley and we had perfect views of Mount Merbabu and Mount Merapi volcanoes.
After a lovely morning watching the sunrise at Puncak Suroloyo it was time to explore Air Terjun Perawan waterfall. Also known as Virgin Falls. A beautiful walk along the hill side took us passed picturesque rice paddy's. We crossed a creek and walked along the river bank until we came across the waterfall. It was a sight for sore eyes on this hot and humid day. Cooling off at the base of the falls was heaven.
After enjoying some tranquility at this gorgeous waterfall, it was time to make our way to the airport to catch our flight to Raja Ampat. I will talk about Raja in the next episode of Exploring Indonesia which you can read about here.
Have you visited to Yogyakarta before? What was your experience like? I would love to know so leave comment below.