I have recently returned from two and a half weeks exploring Alberta, Canada in Winter. The only other time that I have been to Canada was in Autumn and it was stunning. I was curious to see what Winter was like in this amazing part of the world. It didn't disappoint and some things that I did while I was there in Autumn were even better in Winter.
I spent a weekend in Jasper while I was there and had the privilege of staying at The Fairmont Jasper Park Lodge. Whenever I am in Canada I have to stay at the Fairmont Hotels. They have the best service, the best buffet breakfast and everyone treats you like you are royalty. They also have THE best toiletries (Rose 31) and I try to bring as many home with me as I can! ?
Jasper is a cute little alpine town about 290km north of Banff. It is situated in the the Jasper National Park and is filled with natural beauty and attractions. Especially in Winter! So, I thought I would put together a list of 7 fun things to do in Jasper in Winter.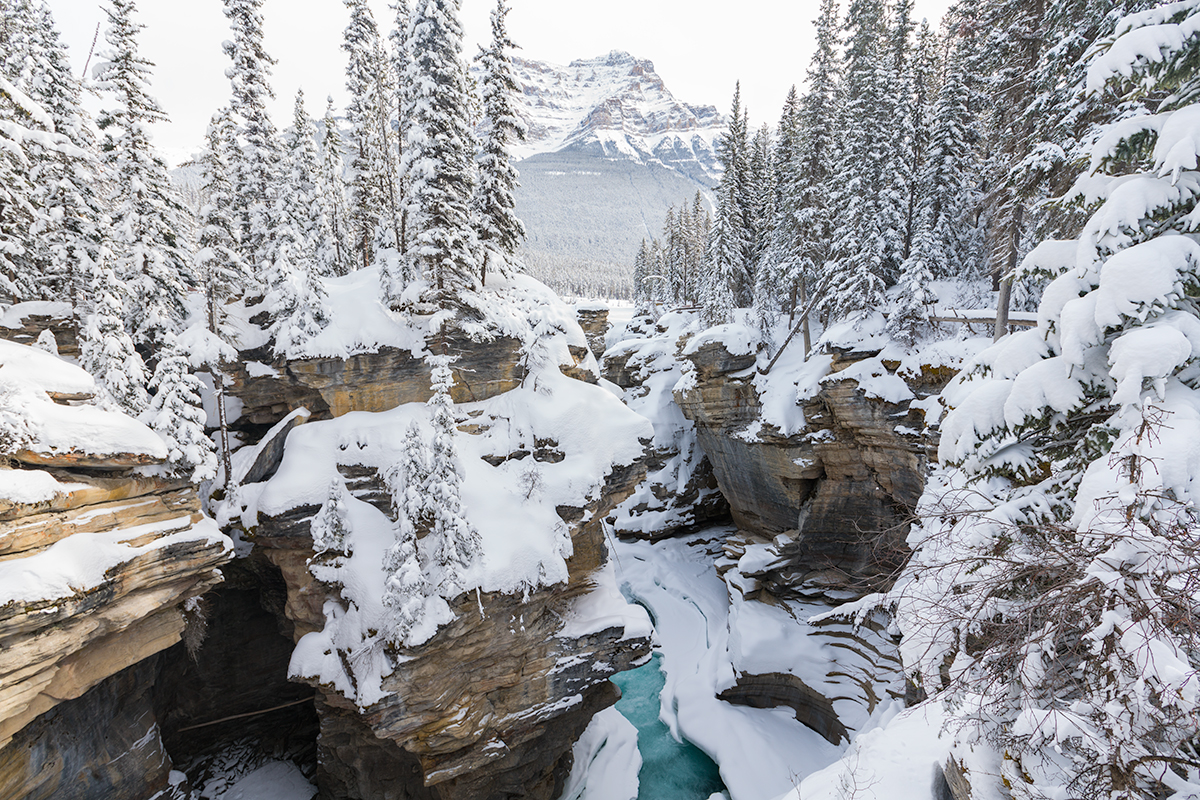 7. Drive the Icefields Parkway
If you are in Alberta then you have to make this your number 1 priority. This has to be my all time favourite drive in the world. It is one of the most scenic of all drives, with breathtaking views around every corner. The day that we left from Banff to travel to Jasper, there was a massive dumping of snow the night before and part of the parkway was closed due to avalanche risks. We were determined not to let that defeat us though and drove up to Saskatchewan River Crossing and across to Abraham Lake, then north to Rocky Mountain House (yes, that is the name of the town) and back down to Jasper. After a solid 12 hours of driving with lots of Skittles and Spotify tunes cranking we finally made it.
Luckily the Icefields Parkway was reopened on the Sunday night before we were to leave Jasper. The weather was stunning the next day and everything looked magical with a light dusting of snow everywhere! There are so many thing to stop and see on the trip too which I will get to below.
6. Athabasca Falls, Jasper
Jasper is located in the Athabasca River Valley so of course there is going to be Athabasca Falls and what an impressive waterfall it is. Aqua blue water falls between two limestone gorges. It is not a particularly high waterfall but the sheer volume of water that thunders down the gorge is powerful. This place blew my mind in Autumn and it was simply stunning covered in snow in Winter. This is a must see when you are visiting Jasper. The falls can be safely viewed and photographed from various viewing platforms and walking trails around the falls. Access is from the nearby parking lot, which leads off Highway 93A just northeast of the falls.
5. Maligne Canyon
I visited Maligne Canyon in Autumn four years earlier and it was ok. I wasn't overly impressed by it. But it is a completely different story in Winter and so much more impressive. After following the path from the carpark through snow covered trees along the track you get to Bridge No. 4. From here you can climb down the hill to the frozen river and walk through the canyon and through the maze of fascinating ice sculptures. There are people down there climbing the frozen waterfall which is really cool to watch. This was one of my favourite things that I did from the whole time that I was in Canada. P.S I am not wearing pyjamas in the picture below. These are my fluffy reindeer leggings! ☺️
4. Patricia Lake
Patricia Lake is surrounded by mountains and most notably by Pyramid Mountain which is a distinctly shaped mountain with stunning layers of colour. It is one of my favourite mountains in Alberta. The lake freezes in Winter and you are able to cross country ski around it and walk right across it. It is not far from Pyramid Lake too which is another stunning lake that you must visit while in Jasper.
Patricia Lake is a great spot for sunrise or sunset and and there are usually coloured boats and kayaks on the pontoon that make awesome foreground interest for photos.
3. Snow Shoeing, Ice Skating and Cross Country Skiing
Whilst I never got the chance to ice skate or cross country ski, I did do plenty of snow shoeing while I was in Canada. Because there was so much snow around, snow shoeing is the best way to go exploring without sinking waist deep in the snow. Once they are strapped on your feet, it makes it so much easier to walk through the snow.
There are countless trails and lakes that you can go exploring with snow shoes. As for ice skating, The Fairmont Jasper has a permanent rink that you can partake in some ice skating for most of the Winter. There are loads of places to go cross country skiing also. You can head off on a trail into the forest or just cruise around the frozen lakes, like Patricia Lake above. Pyramid Lake or Lake Beauvert at The Fairmont Jasper Park Lodge are great for cross country skiing too. You can find trails here.
2. Hot Tubs
This was a completely new concept to me and I loved it. Canadians love a good hot tub and most of them are outside. There is nothing more exhilerating than running through sub zero temperatures in a bathing suit then jumping into 39 degree water. Sitting outside in a hot tub with views of snow covered mountains and it actually snowing is a pretty cool thing to experience. After a long day of show shoeing, cross country skiing, or ice skating, a hot tub is the perfect way to ease the muscle aches and sooth the body.
1. The Fairmont Jasper Park Lodge
There really is no where else to stay in Jasper. I mean there is but why would you want to? I have stayed with the Fairmont every time I have been in Canada and they are an experience within themselves. The Fairmont Jasper Park Lodge is situated on the shore of Lakes Beauvert with views of Mount Whister in the background. This great Canadian lodge is surrounded by nature and abundant wildlife. If you follow me on Instagram you would have seen my close encounter with a cute little squirrel. The resort's charming village of chalets is spread over a 700 acre property.
You can enjoy a wide variety of outdoor recreational activities including golf, hiking, canoeing, kayaking, horseback riding and mountain biking in the summer and ice skating, snowshoeing and skiing in the winter. After an active day outdoors, rejuvenate with a signature treatment at the luxurious Fairmont Spa, inspired by the energy and beauty of Jasper National Park.
The service at The Fairmont Jasper Park Lodge is impeccable. Everyone that works there is so attentive and you really feel like you are matter. I have never experienced this at any other hotel.
Must Do's:
My favourite place to hang was in the outdoor hot tub whilst looking at the gorgeous views.
My second favourite thing about The Fairmont Jasper Park Lodge is the buffet breakfast. This is a must if you are staying here. I have had plenty of buffet breakfasts in my time but this one is seriously the best. My approach is to start with some fruit, yoghurt, juice and earl grey tea before moving on to a huge plate of pancakes with cream, maple syrup and Canadian bacon. I mean seriously, you can't come to Canada and not have pancakes with maple syrup and bacon. It doesn't help that my favourite food is pancakes so I am in my element here! And you can go back as many times as you like! No judgement held!
And lastly there are the toiletries. I don't use hotel toiletries when I am on away because I take stuff with me that I know works but I cannot resist the toiletries at The Fairmont. The smell alone turns my eyes into love hearts ?. I always bring home the shampoo and conditioner so that I can bath my dog in it. She smells so pretty afterwards! ?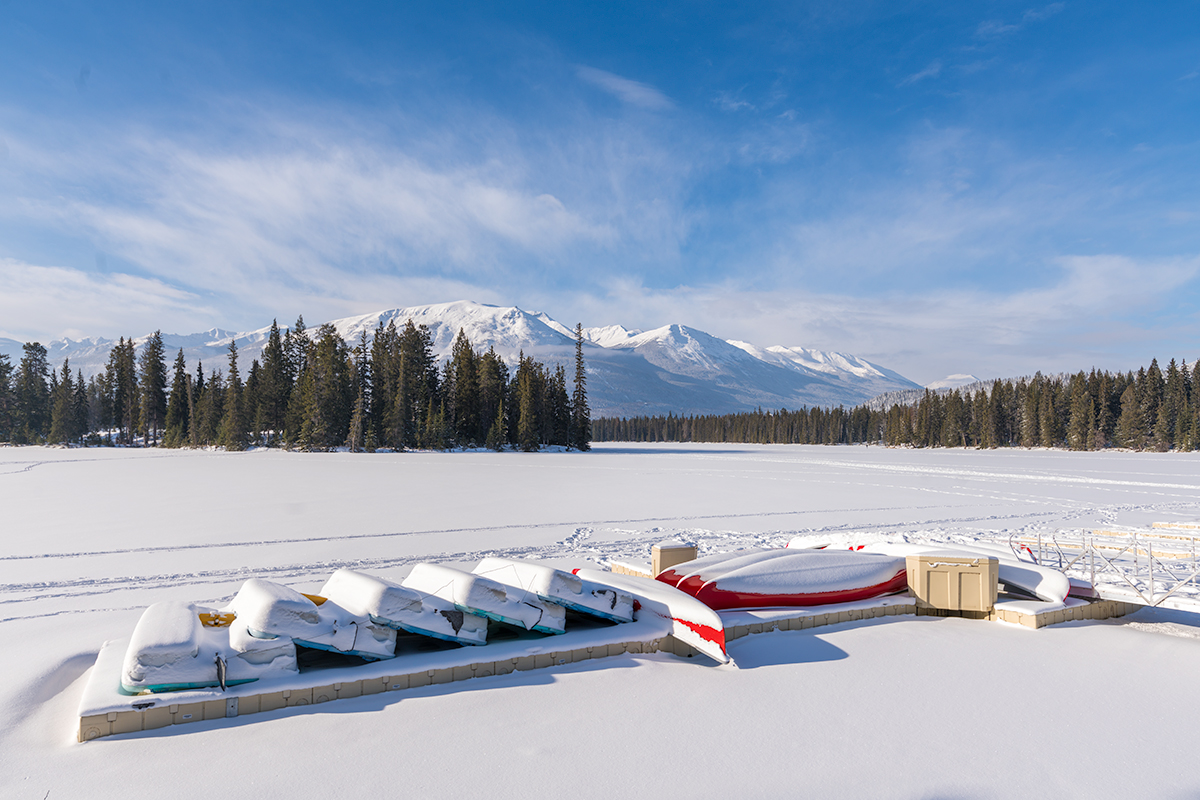 Conclusion:
Yes, it's cold in Winter but it's stunningly beautiful. Those blue bird days, the purest white snow that looks like diamonds when the sun shines on it makes it almost impossible to not get outside and enjoy it. And then you can have a relaxing hot tub at the end of a fun filled day exploring. Sounds like heaven to me!
I hope you enjoyed my favourite 7 fun things to do in Jasper in Winter. Have you explored this part of Canada in Winter? I would love to know so leave a comment below.
Big thanks to The Fairmont Jasper Park Lodge for having me. Even though this was a sponsored stay as always all opinions are my own.
If you would like to experience The Fairmont Jasper Park Lodge for yourself, you can find the contact details below:
Old Lodge Road
Jasper
Alberta, Canada
T0E 1E0
TEL + 1 780 852 3301
Toll Free (Room Reservations only):
1 866 540 4454
[email protected]