Last week I had the pleasure of hosting three Instagrammers from Canada as part of a job that I did with the airline Air Canada. The aim of the job was to showcase Brisbane and surrounding areas to the people of Vancouver as Air Canada recently launched a new flight from Vancouver to Brisbane. So I got to play tourist in my own city of Brisbane and Noosa. It was actually really fun photographing my city through the eyes of a tourist because I generally don't see what a tourist would see because I have lived here for 17 years. Even though Brisbane really isn't on the map as a tourist destination yet and is usually just classed as a stop over for transiting elsewhere I think people are missing out on a fun and beautiful city! Let me show you around!
Brisbane
I picked up Scott (@othellonine), Jordan (@joordanrenee) and Ben (@bennnnnngie) on Friday afternoon after they did a walking tour of the city with Brisbane Greeters and I took them for a drive through Fortitude Valley, the City, New Farm and Kangaroo Point which are all inner city areas of Brisbane. I wanted them to get a good feel for Brisbane as it is such a spread out city and the easiest and quickest way was to drive them around. We stopped at Kangaroo Point cliffs and walked down the steep steps to the river bank for sunset. This is a very active part of Brisbane with people jogging, walking, cycling along the cliffs and river and it also has a beautiful view over the city.
Unfortunately after months of perfect weather a massive storm cell was hitting Brisbane and the weather was pretty miserable so it wasn't much of a sunset but they did enjoy photographing the city lights along the river once the sky turned dark.
We had a delicious dinner at a funky restaurant in Burnett Lane called The Survey Co before hitting the hay as the Instagrammers were very tired after their 14 hour flight across the Pacific.
The next day the weather was even worse with torrential rain and flooding across the city. It didn't stop us exploring though and we ventured out to Lone Pine Koala Sanctuary which is based in the suburb of Fig Tree Pocket, 12km from Brisbane CBD.
I had never been here before so it was fun for me to experience a Koala cuddle too. There were some Tassie Devils snoozing in the little bunkers, dingoes, all kinds of birds and the most adorable baby koala being cuddled by her mum! We were all melting and I think we spent about an hour just watching and photographing this little cutie.
Then we got to cuddle a koala ourselves which was fun and kind of a bit scary once it was actually happening. Haha, but he was a cutie so it was all good!
When it was Ben's turn we were laughing so much because we all realised that he looks just like a koala so from that moment on, that was was his new name. Benny the Koala! Check out the similarity in the pic below!
After cuddling and photographing more koalas we headed over to the kangaroo enclosure for feeding time. They were so adorable and so hungry. Jordan got swamped by them trying to get food off her.
I fell in love with a rascally little kangaroo that had a unique reddish colouring to him. He was adorable but so fidgety so it made it hard to photograph his gorgeousness but I eventually got one snap I was happy with!
Thankfully the rain was starting to ease off and after being all cutenessed out we took the Instagrammers to Mount Cootha lookout which overlooks the entire city and surrounding areas of Brisbane. Even though it wasn't the nicest day, it was actually quite cool seeing Brisbane with grey gloomy clouds for a change. It made for some cool pics anyway!
We then headed to Brisbane Botanical Gardens, Mount Cootha and I was happy to see the Japanese Cherry Tree was in full bloom in the Japanese garden. We also had fun mucking around in the Tropical Plant Dome and it was fun freaking the Canadians out with our bugs and lizards.
After a big day we headed back to the hotel for a rest. Then it was off to dinner at Sake Restaurant and Bar at Eagle Street Pier in the city which was amazing. Some of the best food I have ever eaten including a $50 sushi roll! It did include the most delicious tempura king crab leg!
After dinner we headed over to Southbank to go for a ride on the Brisbane Wheel which is something I have never done before either. I was having lots of new experiences and loving it.
Then it was time for bed because the next day we were heading to Noosa for two days!!
Noosa
The next morning we were chauffeured up to Noosa and met up with Liz from Visit Sunshine Coast at the Noosa National Park for a bit of a walk around. Even though the rain was gone it was still extremely windy at Noosa which was creating huge waves on the beach. Normally Noosa is a quiet little calm bay. This was the first time I had ever seen waves here and the surfers were loving it!
After losing Jordan and Ben and finding them again it was time for lunch back at Noosa Surf Club which started with 1kg of King Prawns which were absolutely delicious. We all hooked into some traditional pub grub after that which was so good.
We had free time in the afternoon so we jumped in a car and headed down to Serenity Falls at Buderim. If you park at the bottom entrance its about a 15 minute walk along a boardwalk through the forest that then ends up near the creek which you follow passed lots of little waterfalls before reaching Serenity Falls at the top.
After exploring the falls for a while we headed back towards Noosa and noticed the sky looking lovely at Sunshine beach so we stopped in there to watch the sunset which was stunning.
That night we had dinner at the newly refurbished View Restaurant at Peppers Noosa Resort which was our accommodation for the next two nights. This place is off the charts modern and luxurious and in such an awesome location. A 5 minute walk to Hastings street but set among the rainforest of Noosa National Park.
We started with cocktails from the new cocktail menu which were amazing and some delicious canapes before sitting down to some of the most amazing food ever. We all shared different tasting plates of things like Sake and Mirin Gooralie pork belly, Pepper crusted kangaroo, Gympie beef carpaccio and Hervey Bay scallops. We were fed like Kings and Queens.
The next morning Jordan and Ben wanted to have a relax but Scott was up for an adventure so we wandered down to the water for sunrise which was really a beautiful way to start the day.
After a delicious buffet style breakfast back at Peppers Noosa we were greeted by Steve from Surf and Sand Safaris and off we went on a beach 4wd adventure. Steve was full of information about the area and was such a lovely chatty guy. Because of the massive storm and king tides the previous couple of days we were unable to drive along the beach that morning so steve took us through the hinterland and along the Freshwater track which runs through the rainforest before emerging onto the beach.
Finally he tide had receded and we hit Teewah Beach and it was glorious. The weather had cleared and it was a fresh but beautiful day. We cruised up the beach until we reached Double Island Point.
After enjoying a walk and exploring this stunning area we jumped back in the car so that Steve could drive us up to the lighthouse. This was luxury as normally you have to walk up to the top. Only this tour company has driving access to the top.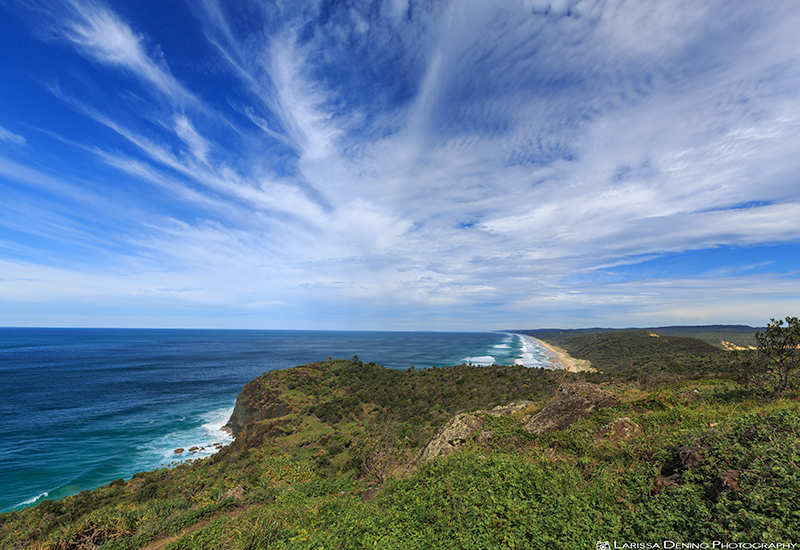 After exploring the area surrounding the lighthouse Steve drove us down, back along the beach and across the Leisha track to the Rainbow Beach side of the island. There is a gorgeous lagoon of water that is popular to swim in and a vast expanse of gorgeous sand that sits below the stunning coloured sands.
Erosion has exposed a palette of as many as 72 different coloured sands which have been produced by combinations of iron oxide and leached vegetable dyes. It is likely that the sands have been forming since the last ice age.
More poetically, an Aboriginal legend tells of a spirit which took the form of a rainbow. Entering into a fight over a young woman the spirit fell onto the cliffs infusing the sands with its polychromatic splendour.
We pulled up alongside the 200 metre high colour sands wall to enjoy some lunch.
After enjoying a delicious ham and salad roll and a muffin, Steve gave us a display of how pigmented the coloured sands were and how the aborigines used to paint with them which was really interesting. Then we jumped back in the 4WD and drove back over to Teewah beach to check out Red Canyon which is one of my favourite spots along the beach.
This place is crazy and is the closest thing that you will find to that big red rock in the middle of Australia – Uluru. This gorge which you can find along the middle of Teewah beach is a canyon of pure red sand and is really fascinating to see. You can also climb right up the top onto the sand dune for magnificent views over Teewah beach.
We had fun playing in the gorge and all came away with red staining on our feet and hands.
Then it was time to head back to Noosa for an afternoon drink at the View Restaurant back at Peppers Noosa. After a bit of a relax Scott and I decided to head down to Laguna Bay to watch the sunset and it was one of the most spectacular sunsets I have seen in a long time. Im so glad that Scott got to see it too.
It literally lasted for about 30 minutes and everyone was just standing around and watching the sky turn all shades of pink, purple, yellow and orange.
We then had one of the best dinners of the last four days at Locale Restaurant on Hastings Street. The Gympie free range, slow roasted pork belly was amazing. I highly recommend it. Scott said the sirloin was the best steak he has had while he has been in Australia!
Then we had a night cap back at View Restaurant and Bar at Pepper Noosa before going to sleep and heading back to Brisbane the next day.
It was a whirlwind 4 days especially for the Canadians but it was loads of fun and they got a good feel for Australian culture and our beautiful beach and city lifestyle.
Things that they found strange which are completely normal to us Aussies were Utes! They don't have these in Canada and found them really funny. The way we shorten all our words. I never realised how lazily we speak and they wanted to see what other flavoured Tim Tams we have here and what flavour chips!
I would like to say a big thanks to Air Canada for choosing me to be the host for this trip. I had an amazing time with Scott, Jordan and Ben. Also thanks to Visit Queensland, Visit Brisbane, Visit Sunshine Coast and Visit Noosa for organising such and awesome adventure for us all.
Thanks to Noosa Peppers Resort for a lovely stay and thanks to Steve from Surf and Sand Safaris for an awesome 4WD adventure!
Air Canada fly Vancouver to Brisbane and Brisbane to Vancouver twice a week. Check the website for details here.
Have you been a to Brisbane or Noosa as a tourist before? What was your experience like. I would love to know so leave comment below!