There's a liberating and also terrifying feeling when you are on a road trip in a completely different country and you have no idea where you are going to sleep that night! By the time we got to Hood River we had run out of time to book accommodation for the next night and there was nothing available at the hotel we stayed in the night before because there was a massive swimming carnival on in and every single place was booked out. Our only option was to head back to Portland which is about an hours drive West of Hood River. I still had only explored a tiny part of the Columbia River Gorge which you can read about here and it was a big part of the reason why we were in the USA so we decided to spend that day seeing as much of it as we could and head to Portland late that afternoon. We spent an hour at the local Starbucks that morning with our hot chocolate and banana bread and found us some accommodation for the night. Phew, it was a relief once we got that sorted then off we went on another fun adventure…..
First stop was the Eagle Creek trailhead which was a 4 mile round trip which equates to 6.5km in Australia and took us about 3 hours after continually stopping to take pictures of the moss covered trees, the dirt path scattered with autumn leaves and the two waterfalls that I came to see. The first waterfall which is called Metlako falls is only viewable from a distance but still beautiful none the less.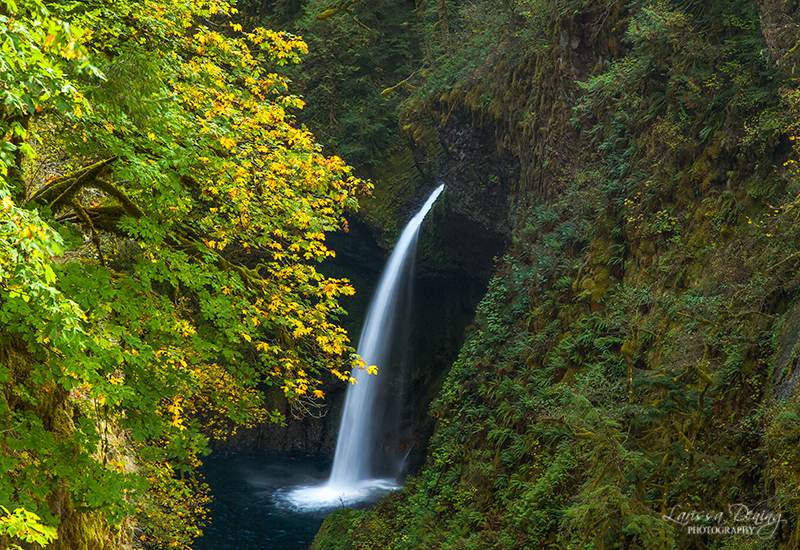 The only interesting thing that I found about these falls apart from them being really pretty was these crazy mofo's in this youtube video:
I mean, what the hell? Do they have a death wish? haha. We continued along the trail around corners of cliffs that got pretty narrow at some points and got pretty slippery and muddy from all the rain the night before. It was interesting trying to pass people with about 40cm of dirt under your feet and a 4 metre drop behind you.
I now know why this trail is so popular. This area at the end of the track is so serene and stunning. I could have stayed here for hours. People were having picnics everywhere and just soaking up the beauty and calmness of this place. The afternoon light was giving the area a beautiful warm glow. It was simply stunning!
It was hard to leave this place but we had to push on because there was so much more to see and explore. After getting back to the car we headed off to Wahclella Falls which was a bit tricky to find. Even the guy at the army barracks hadn't heard of it and he was a local! Eventually we found it thanks to good old Google and I think it still comes under the name Tanner Creek Falls to the locals. This trailhead (which is what they call a hike in USA) was a 2.9km roundtrip and really pretty. Sorry for the bad iPhone shot below.
I think this waterfall came close to being my favourite. The power of the water coming out of the narrow gorge was just incredible and it falls into a giant plunge pool that is surrounded by dark grey basalt rock moss covered walls. (Try saying that 3 times fast!)
And this is how you take a photo of Wahclella Falls! Balancing on a huge rock, while trying to hold an umbrella over your camera because it has started to bucket down with rain while trying to compose and click the shutter all within a 5 second window before the front of your lens gets covered in spray from the huge waterfall in front of you that you are trying not to fall into! All the while your husband stands there just taking photos of this spectacle rather than helping me! It was well worth the near death experience for the shot in the end! Oh and if anyone finds my pink kiki.k umbrella in the back of a White Mitsubishi Outlander hire car, please return to me in Australia! Thanks! 🙂
After this we headed to Elowah Falls which I had seen some beautiful pictures of. This hike was a 2.25km round trip. Unfortunately it wasn't the best time of year to see it. The falls weren't flowing much and the lack of rain in previous months meant there wasn't much moss covering the rocks. Still a beautiful place that I would love to see again one day!
It was starting to get really late by this stage. We still had to walk back to the car and drive to Portland and it was well after sunset. So off we merrily trotted with a smile on our faces after having an awesome day of adventure and discovery. There is still so much more to explore in the Columbia River Gorge. We only just scratched the surface so we will just have to come back again. All the hikes that we did that day were of easy grade so anybody with moderate fitness levels could tackle them quite easily. I tell you what I slept like a baby that night!
The next morning we were off to Seattle! Stay tuned for that instalment soon.
Have you ever explored any of the waterfalls along the Columbia River Gorge in Oregon? Are there any others that we need to add to our list for next time? Leave a comment below and if you enjoyed this article why not share it with your friends!
P.S. You can read the next instalment of our adventure here: